Strawberry honey pot
In July 2013, Tian's chef de cuisine Paul Ivic provided some recipes for the ones who are green field and outdoor connaisseurs. Fashionoffice selected one of Tian's recipes after the criteria 'snack in-between'. The Strawberry Yogurt with honey is not only a good idea for the picnic basket; it's a good choice for the daily snack between the meals.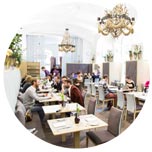 fig. original: Insight into the restaurant Tian in the inner city of Vienna. Not on view on this image are Tian's market (ingredients like oils and food, beverages such as apple juice or vodka) and the restaurant's patisserie with new interpretations of classical (country-specific) recipes like 'Austrian Gugelhupferl'. Photo: (C) Jürgen Hammerschmid.
Strawberry Yogurt
Ingredients:
250 ml of organic natural yoghurt
250 g of fresh local strawberries
1 tablespoon organic acacia honey
Juice of ½ lime, fresh mint
How to prepare it:
Take 2/3 of the strawberries, halve them, mash the fruit pieces with a fork and mix the pulp with honey and yoghurt; add fresh mint and lime juice after your personal taste. Cut the remaining strawberries into small pieces and apply them to the yogurt.
Tian's Paul Ivic recommends to serve the Strawberry Yogurt cold.
Source: Original article with image on http://www.fashionoffice.org/cuisine/2013/tian7-2013.htm.

more fashion.at/mobile>

News from
June 2013
May 2013
April 2013
March 2013
February 2013
January 2013
December 2012
November 2012

subscribe
terms
imprint
(C) Sawetz, since 1996