How to translate the motto 'flachgelegt' for new chocolate?
In early March 2013, the 100% in Switzerland produced chocolate label 'Toblerone' sent the information about the new version of its clickable triangle choco-sculptures (the form is inspired by the Matterhorn) with the motto 'flachgelegt'. The German word is easy to translate into English; it means simply 'bedded'.
"'Bedded' but with proven unique flavor..." states Toblerone and sent unfortunately only photos but no chocolate.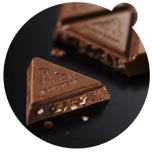 Photo original: Toblerone
Source: Original article with images on http://www.fashionoffice.org/cuisine/2013/toblerone3-2013.htm.

more fashion.at/mobile>

News from
February 2013
January 2013
December 2012
November 2012
October 2012
September 2012
August 2012

subscribe
terms
imprint
(C) Sawetz, since 1996