Travel style
In late January 2013, Fashionoffice selected some practical pieces for travelling. Very comfortable for sitting in airplanes, trains or the car are wrapped blouses such as the two by Vivienne Westwood from the Spring/Summer 2013 'Anglomania' collection. Vivienne Westwood pays tribute to outdoor activities like picnics (Vichy or Gingham pattern blouse in red/white check left) and references British men's tailoring by using fabrics that look like recycled material from men's (old) shirts.
"We have taken a romantic approach to our otherwise rainy summer season in England and thought of idle leisurely days in the sun; on the beach, picnicking in the park or punting on the canals," is the idea 'Anglomania' described in the press release.
The sunglasses on this page are from the current 'Optical Sun Collection 2013' by Dolce & Gabbana; left, sporty glasses from the men's series for outdoor activities in signal red; right, the elegant, feminine model in oxblood.
The beauty case and oriental-red colored luggage are from Rimowa's style idea for short-breaks on occasion of Valentine's Day. The travel style tip came together with graphics of 'Armor'-angels and the motto "Love Is In The Air".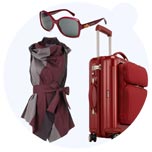 fig. original from above, left: Sunglasses by Dolce & Gabbana 2013; wrap-around blouses from Vivienne Westwood's 'Anglomania' SS2013 collection; 'Salsa Deluxe Hybrid' luggage in oriental-red by Rimowa. fig. original: Beauty case 'Topas Titanium' by Rimowa.
Source: Original article with images on http://www.fashionoffice.org/collections/2013/travelstyle1-2013.htm.

more fashion.at/mobile>

News from
January 2013
December 2012
November 2012
October 2012
September 2012
August 2012
July 2012

subscribe
terms
imprint
(C) Sawetz, since 1996