Haute couture alike handmade city scooter

...seen in early August 2013 at bike distributor Faber in Vienna. The handmade (stitched handle grips, etc) Vespa 946 is a collector piece (production: only 12 per day). The scooter (black or white with black, brown, red seat and various other customizable parts) was launched in November 2012 in Milan and pays homage to the history of the motor cycle's prototype from 1946. On the label's website vespa.com, the online presentation is designed like for a Haute Couture fashion piece with backstage video from the photo shooting with international models (below on this page) as well from the production where the items of the scooter are put together per hand. In Austria, the Vespa 946 (125 cc monocylinder engine) is available exclusively at selected bike shops.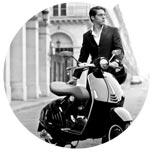 fig. original: The picture right is from the fashionable Vespa 946 campaign with international models. Photo: (C) Faber GmbH / www.vespa.at.
Source: Original article with images on http://www.fashionoffice.org/motor/2013/vespa8-2013.htm.

more fashion.at/mobile>

News from
July 2013
June 2013
May 2013
April 2013
March 2013
February 2013
January 2013

subscribe
terms
imprint
(C) Sawetz, since 1996