A social message packed into satin, tulle, and fringed organza in retro 30/40ies futuristic style
"Everything is lightened by a subtle transparency, which constitutes our social message." explain the Spanish designers Victorio & Lucchino the new 'Retro-Futuro' Spring/Summer 2014 collection on mercedesbenzfashionweekmadrid.com.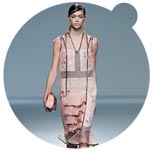 fig. original, photos2+3: The cocktail and evening pieces by Victorio & Lucchino impress with their lightness which is technically solved by almost invisible, transparent parts on shoulders and décolleté; the dresses seem to circumfly the bodies. Catwalk views of Victorio & Lucchino Spring/Summer 2014 at Feria de Madrid during Mercedes-Benz Fashion Week, organised by IFEMA on 13 September 2013. Photos: (C) Estrop/IFEMA.
Vogue Espana calls the collection's style 'new vintage' and finds - by referencing Paris, that a new sensuality is in fashion now. Watch the catwalk video of Victorio & Lucchino 'Retro-Futuro' SS2014 with music by Rye Rye 'Sunshine - ft. M.I.A.' on mercedesbenzfashionweekmadrid.com.
In 1985, the designers Victorio, José Víctor Rodríguez Caro, and Lucchino, José Luis Medina del Corral, created their first collection. Since the beginning, Victorio & Lucchino are based in Sevilla, the biggest city of Andalusia. They are driving their inspirations from the region of Andalusia which is described by them as the home of many cultures that are constantly changing. The female dresses are reflections of the art of living in Andalusia and show typical craftsmanship from the region in modern design.
Source: Original article with images on http://www.confashion.com/ss2014/victoriolucchino9-2013.htm.

more fashion.at/mobile>

News from
August 2013
July 2013
June 2013
May 2013
April 2013
March 2013
February 2013
January 2013

subscribe
terms
imprint
(C) Sawetz, since 1996