Vienna Fashion Week's campaign images
In July 2013, MQ Vienna Fashion Week sent the campaign images by photographer Mato Johannik together with the information about the fashion shows between 11 and 15 September at the Museumsquartier nearby the Inner City of Vienna. Additionally, Vienna Fashion Week announced that this year's 'Presenting Sponsor' is the 'PayLife Black' card by cashless payment company PayLife.
Even when it wasn't officially the intention of MQVFW, the sponsor's brand name fits well to the campaign with bloodless looking model (where is Vlad?) and hanging men (ahh, Vlad took this way!). One of the first ideas which are evoked by looking at the pictures is to initiate life-saving measures - and even for such services you have to pay.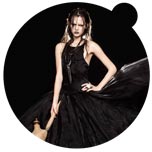 fig. original: Evening gown by Tiberius; jewellery (ring) by And_i.
fig. original: Men's suits by Magdalena Adriane. Photos: (C) Mato Johannik.
Mato Johannik developed the concept of the campaign images and shot the pictures at the Wiener Kostümhaus; styling by Nina Kepplinger, make up Christopher Koller, hair Patrick Glatthaar, models from Wiener Models.

Source: Original article with images on http://www.fashionoffice.org/culture/2013/viennafashionweek7-2013.htm.

more fashion.at/mobile>

News from
July 2013
June 2013
May 2013
April 2013
March 2013
February 2013
January 2013

subscribe
terms
imprint
(C) Sawetz, since 1996