Fashion for beer festivals in autumn in the European Alps
...seen on 13 August 2013 at the 'Oktoberfest' collections by Falke (stockings with red bow and golden pretzel) and Pandora (bracelet with charms like the mountain flower Edelweiss).
Each year in autumn, the European Alps region celebrates the 'Oktoberfest'. The festival on the green field originates from Munich, Bavaria in Germany and is held also in other cities such as in Vienna. In Munich, the 180th 'Oktoberfest' runs from 21 September until 6 October 2013; the Red Cross organizes even this year the online voting for the best creation of the so called 'Wiesnbutton' ('Wiesn' means green field) for the members of the medical ambulance at the beer festival in Munich. Voting until 15 August 2013!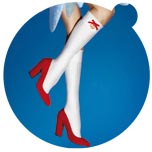 fig. original: White 'Wiesn stockings' with red bow and golden pretzel by Falke for the 'Oktoberfest' in autumn 2013; come into stores in September. Photo (with graphic of an Edelweiss): (C) FALKE.com.
fig. original: The charms on Pandora's bracelet show three typical 'Wiesn' items: the Alps flower Edelweiss (the plant can be found in the mountains above the treeline and stands for the purity of love), a dress, and a pretzel. The jewellery label's tipp: add charms made of Murano glass in the colors of the 'dirndl' (traditional Euroepan Alps dress); seen in August 2013 at Pandora.
Source: Original article with images on http://www.fashionoffice.org/collections/2013/wiesn8-2013.htm.

more fashion.at/mobile>

News from
July 2013
June 2013
May 2013
April 2013
March 2013
February 2013
January 2013

subscribe
terms
imprint
(C) Sawetz, since 1996