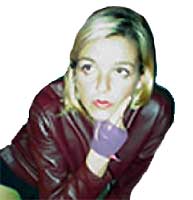 LAUREN SHEPHERD

April 2001: I'm pondering over my impending 30th birthday and life in general. I've had a stream of good jobs, which started in marketing, moved into power sales and finally evolved into project management. I work very, very hard but I'm finding it all so unsatisfying and dull. I have to do something else. Being 30 has to be about much more than this, something more fun, something challenging and something I love - fashion. Several days later I hand in my notice.
May 2001: I register Agent Anonym as a company. Agent Anonym because: I've often been described as a chameleon in the way I change my look from day to day; I much prefer a pseudonym to using my real name, and I love the idea of pretending to be a secret agent. I choose Glovedup as a label for the gloves and register the domain name. Glovedup as a name fits perfectly. It originates from the early house music scene, where kids would describe the euphoric, touchy sexy feeling of being on ecstasy as being "lovedup". My gloves have a lovely sensuous touchy feeling as well, hence the name Glovedup.
July 2001: I'm unemployed, deliriously happy and full of summery sunshine optimism. I've compiled a list of all the things I want to do in my 30th year. I redesign www.londondudes.co.uk, the site I created with my partner. I buy a sewing machine and some fabric to start with my first mission: designing and making Glovedup gloves.
August 2001: It's a beautifully sunny Thursday morning and I'm all geared up; my cycle panniers are packed and I'm ready for my next mission. Over the next five days, with my partner Rick, I cycle through Holland, Belgium and Northern France and zoom through Paris and across the Seine to the 5th arr. where my sister eagerly awaits our arrival. Whoa! I'm on the top the world, bring me water, beer and champagne, it's time to celebrate.
September 2001: I spend most of the month listening to BBC Radio 4 and either painting motifs on Pwachu or making the limited edition gloves. The name Pwachu comes from some lettering stuck on a box my partner found in the street. I've had "I GOT A RIGHT" embroidered onto the right-hand palm to make it easier to put the gloves on the correct hands. "I got a right" is a record from Iggy Pop, my punk rock idol. I hang silver Dutch charms off silver bead chains for the limited edition Dutch Collection gloves. I've given each glove a Dutch girl's name. I have to make references to Holland, because it's a never-ending source of inspiration.
October 2001: I transformed the bedroom into a photo studio, and using the timer on my digital camera I modelled my new gloves. Now I've got to design and build the Glovedup website. I switch from BBC Radio 4 to Ministry of Sound radio to liven things up a bit. I'm pleased with my first home page picture, which has a line of headless women all wearing Glovedup gloves. The headless women are all me, ah the joys of computer software.
November 2001: I've just got back from Razzmatazz, Amsterdam purveyor of Vivienne Westwood et al, and they want to sell my gloves. I make www.glovedup.com live and have a go at some PR. www.fuk.co.uk does a report on the gloves, followed by a handful of other fashion webs. I visit Manchester to take an order of gloves to Geese, a Manchester landmark shop. The visit coincides with the press launch of 24 Hour Party People, the Hacienda film. Don't manage to get into the film, but the party is pretty good fun.
December 2001: Georgette Koning interviews me for Dutch magazine, and I'm thrilled by her response and interest and can't wait to see what she writes. I'm contacted by Radio London, a boutique in Antwerp and they order some gloves. I prepare orders for www.theredhand.com and www.ouijetaime.com. I'm also selling the gloves in a special Christmas store - owned and run by www.fanclub.nl. I have a lot of fun working there as a shop assistant for a couple of days, with Mo Veld, super smart Dutch fashion journalist and member of Fanclub.
January 2002: The designers behind www.fevereddeviant.com, have asked me to design a glove for their own collection, wow! Lee Carter of Hintmag has mailed me to say he's added a link to the Glovedup website and that he'd love some Pwachus, so I set to work making him a man-sized pair.
February 2002: The Strokes are performing at the Paradiso, so a couple of nights before the gig, my partner and I fly-poster all around the venue. Our posters are Glovedup recreations of record sleeves of The Strokes, The Buzzcocks and Iggy Pop. The gig is fantastic and I'm just as impressed by the support band Stereo Total. We put our Strokes cover flyers on the chairs behind us, and much to our amusement; people assume the seats are reserved.
March 2002: I'm planning my first glove party for next month. We're going to transform my friends place into a beauty parlour, and then whilst sipping wine and reading glossy magazines all try on the gloves. I've redesigned the www.glovedup.com site for the launch of the spring/summer gloves.

Contact:
Agent Anonym
Michelangelostraat 53 III, 1077BS, Amsterdam, Holland
Web: www.agentanonym.com
Tel: 0031 (0)20 676 7320