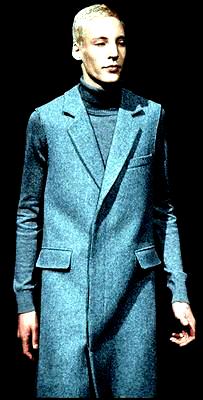 RAF SIMONS 1999

RAF SIMONS born in 1968 in Belgium, started his first mens collection in 1995. His shows are a mix of fashion, youth culture, music and performance. "I don't want to show clothes, I want to show my attitude, my past, present and future. I use memories and future visions and try to place them in today's world."


Born in Neerpelt in 1968. Studied industrial design in Genk, Belgium and graduated on furniture design. After school he was especially working as furniture-designer for galleries and private interiors before he started to make his first collection.
In January '95 he presented his first mens collection in Milan. The next season he moved to Paris where he presented his collection 3 times in a gallery before giving his first show in '97.

Autumn-Winter '95 -'96
His first collection, presented at the Danielli Ghiselli showroom in Milan. The collection was inspired by English schoolboys and their uniforms. Characteristics were the very tight silhouette and the classical materials in dark colors (grey, black, navy). The collection was presented with three large black/white pictures of two boys he spotted on the street, and with a promotional video.

Spring-Summer '96
Second season, shown in a private showroom in Paris. Illustrated by four life-size colorpictures of some boys and a girl and by a black/ white 8mm video of the same young people, hanging around at home in an atmosphere that is reminiscent of Warhol's 'Factory' The collection was inspired by David Bowie in the late seventies-early eighties; by Antonioni's "Blow Up" and by the film "Christiane F". The silhouette was again very close to the body. Classic materials were mixed with strong color accents. Alternation of cheap and chic, classic and trash.

Autumn-Winter '96 -'97: "We only come out at night"
Raf organises his first presentation for the press and his clients in a Paris art gallery. A video was projected on a large white wall, while the kids appearing on screen were walking around in the gallery wearing the same outfits. The video tells a story about 11 rich children all dressed up, who retire to their rooms after a dull cocktail-party in their elderly home. They change into trash outfits and hang around, watch T.V., dance, conjure up ghosts, etc. In the showroom 8 blown-up close-ups of youngsters who look as if they belong to the 'Adams family' were shown together with a photo of a businessman in a very classical outfit and a black motor-helmet on the head. Another picture was a parody of Wednesday Adams sitting in a wicker chair.
Atmosphere of the collection and of the video: 'The Adams Family' - kids, Kate Bush, The Cure, 80's New Wave, Punk. All the models had dyed black hair and pale faces.
The silhouette: tight, strictly classical shapes with influences of Punk and New Wave.
Materials: English wool mixed with leather.

Spring-Summer '97: "16,17, how to talk to your teen"
The collection was presented in a photostudio in Paris. A video showing 14 teenagers who run out of school and finally come together in an imaginary U.F.O., an environment created by themselves where they can indulge their phantasies in contrast with their daily life and earthly things such as school, parents, etc. The showroom was decorated with three large pictures taken from the video, and with 25 seventies style plexiglass photo-cubes with photo's of the teenagers. The silhouette is again tight and close to the body, inspired by the Mods and the Punks in combination with schoolboys and surfboys. The materials are classical combined with vivid colors. They look old and washed off. Trash T-shirts with prints or pearls and shirts with a 'Teenage Summercamp' embroiderie. The colors: red, jeans, brown, kaki, white, grey, black


Autumn-Winter '97-'98
Raf Simons gave his first fashion show in Paris on Sunday January 26th. The Inspiration: Transition between Punk and New Wave Exchange project between American University students and English schoolboys at a British campus. The collection does not radiate a 1997 atmosphere. The Look: American college students and English schoolboys with a background of New Wave and Punk. Mixture of different elements of youth-culture, eg. the leather 'perfecto' jacket is a reminiscence of Raf Simons' own youth and now he gives his own interpretation of this youth-symbol. The collection is always a mixture of cheap and chic, as well in the choice of the materials (mostly classical fabrics mixed with some trashy items) as in the design of the different models.


Spring-Summer '98
Raf Simons gave his second fashion show 'BLACK PALMS' in Paris on Friday July 4th.


Autumn-Winter '98-'99
Raf Simons organised his elaborately orchestrated show , called 'RADIOACTIVITY' in the Moulin Rouge in Paris on Friday January 23rd 1998. The collection was inspired by : Kraftwerk, Laurie Anderson, Vanessa Beecroft, Ceremony the 80's New Wave and Punk.


The headgroup of the models had dyed black hair and pale faces. The faces of the Kraftwerk part were made up in white, with bright red lips. Four spider-men appeared with a sider-web on their faces. Tight, strictly classical, shapes with influences of Punk, New Wave and historical costumes. The coats had a sharp form and shiny zippers. A group of female models appeared wearing slim classic jackets, bodysuits , tights and high heeled shoes and with shiny motorcycle helmets on their heads, all this in black. The show was a continuous alternation of classic and trash. Black, Grey and red (Kraftwerk shirts)


Spring-Summer '99
Raf Simons organised his show at the "Cité des Sciences et de l'Industrie" in Paris on the 3rd of July 1998. The "kinetic youth" collection was presented outside, in front of the enormous mirror ball located in La Villette's Science and Industry museum in Paris. The set refers to the architectural influences in Raf Simons'life and also to kinetic objects from his youth. Raf Simons used different songs of David Bowie during the whole show.

The show opened with David Bowie's "Space Oddity" and the opening part was inspired by the graffic style of "Bauhaus"; n clean lines n shirts with white/black contrast (different black pleats in the back and black triangle on the front) n black wool pants with on the front one, two or three pleats A group of very young teenagers wearing white turtle-neck shirts with a "R" symbol, stitched on the collar. Their pants were all in different colours; red, petrol, light grey, mint, beige melé, marine…The models walked together in a group on the bridge, on one side of the runway leading to the mirror ball, then to the central building and to the bridge on the opposite side of the first one.
Inspiration : School Memories, for example gymnastic lessons in uniform , repetition.
Music : "Life on Mars" , David Bowie.
The global idea behind the last two show parts was the inspiration of the "rubik's cube" object; order and disorder of colours. Classic ton-sur-ton outfits with merino wool knitted pullovers and classic suits.This time the pleated pants are light grey, beige melé, brown and marine. The most important material in this part was the coloured leather. Raf Simons showed mixed coloured outfits, like trashed cutted rock t-shirts in yellow and green, with large leather jogging pants and sleeveless tunic jackets. Colours brown, grey, light grey, aubergine, mint, green, red…… Music : "Heroes" , David Bowie. The song of the final part : "Another brick in the Wall" from Pink Floyd. The whole group of ca. 60 boys walked quite fast on the runway, but now in the opposite direction. The order becomes a disorder, as in the song: "we don't need no education". Raf Simons feels inspired by youth culture : on one side they are wearing uniforms, but inside they still feel like HEROES, like unique individuals.


The RAF SIMONS COLLECTION AUTUMN-WINTER 1998-1999 is available at the following shops :

EUROPE
Louis, Antwerp, Belgium
Stijl, Brussels, Belgium
Handsome, Hasselt, Belgium
Men's Men's World, Ghent, Belgium
Van Ravenstein, Amsterdam, The Netherlands
Harvey Nichols, London, Great Britain
The Library, London, Great Britain
Browns, London, Great Britain
Jones, London, Great Britain
The Changing Room, Kent, Great Britain
Autograph, Birmingham, Great Britain
Van Mildert, Durham City, Great Britain

Flower, Paris, France
Maria Luisa, Paris, France

Degli Effeti, Rome, Italy
Glamour, Brescia, Italy
Antonioli, Milano, Italy
Rossana Nicolai, Porto San Giorgio, Italy
Robe Italiane, Sesto Fiorentino, Italy
Parisotto, Florence, Italy

Citta di Bologna, Cologne, Germany
Petra Teufel, Hamburg, Germany
Windmöller, Hamburg, Germany
Fishkiss, Würzburg, Germany
Holy's, Stuttgart, Germany
Holy's, Munchen, Germany
Pool, Munchen, Germany
Public Image, Berlin, Germany

Sotris, Athens, Greece



U.S.A.

Barneys, New York

Barneys, Beverly Hills
Maxfield, Los Angeles
Ron Herman/Fred Segal, Los Angeles
Alan Bilzerian, Boston


CANADA

Giorgio Couture, Toronto

RUSSIA
Le Form, Moscow


JAPAN
Aqua Girl, Tokyo
United Arrows, Tokyo
One Day, Tokyo
Isetan, Tokyo
Midwest Homme, Tokyo
Barneys, Tokyo
Aqua Girl, Osaka
United Arrows, Osaka
Max Well, Kobe
Midwest, Nagoya
United Arrows, Nagoya
Andy House, Kyoto
United Arrows, Kyoto
Basement, Fukuoka
United Arrows, Fukuoka
Memphis, Kumamoto City
All In Here, Niigata
Mintz, Niigata
Revolution (Les Coureurs Homme), Sendai
Downstairs, Takamatsu
Underground Passage, Takamatsu
Ciento, Hirosaki, Aomori
Jeans House, Mutsu-Shi, Aomori
Blanc Bec, Hamamatsu, Shizuoka
Settle Down, Ohtemachi, Shizuoka
Andy House, Komatsu, Ishikawa
Bolero Shop, Utsunomiya, Tochigi
Remu's (Fabrice Blance), Fukui
Renny's Wear, Matsuyama, Ehime
Zaxas (Piccadilly Circus), Hiroshima
Zaxas, Fukuyama, Hiroshima
Box-ing, Akita
Infaces, Toyama
Intellectual Gallery, Morioka, Iwate
Garden, Okayama
Cry Baby, Sapporo
Charivari, Suzuka, Mie


HONG KONG
Joyce, Hong Kong


TAIWAN
Joyce, Taipei


MALAYSIA
Club 21, Singapore


LIST OF FAVOURITE MOVIES
1) CREMASTER 1 (Matthew Barney)
2) BLUE VELVET (David Lynch)
3) 2001, A SPACE ODYSSEY (Stanley Kubrick)
4) CHRISTIANE F. wir kinder von Bahnhof Zoo (Bernd Eishinger and Ulrich Edel)
5) LOST HIGHWAY (David Lynch)
6) THE SHINING (Stanley Kubrick)
7) TWIN PEAKS (David Lynch)
and more:
TEXAS CHAINSAW MASSACRE
JAWS 1
HEAVENLY CREATURES
EDWARD SCISSORHANDS
E.T.
BLOW UP
A NIGHTMARE ON ELM STREET 1
THE COMPANY OF WOLVES


photo: © Marleen Daniels + Carl Bruyndonckx