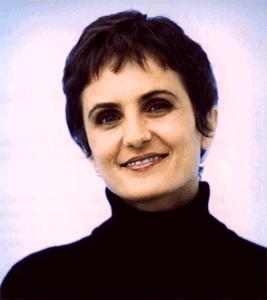 MARINA SPADAFORA 1998

Marina was born in Bolzano on the 3rd of may 1959, zodiac's sign Taurus. Since two generations her family is involved in the fashion world with a firm, Spadafora S.p.A., which produces knitwear.
Talentfull and with a volcanic nature, she decides at first to make her own career abroad. In 1979, she moves to Los Angeles where she experiences the typical american know-how which mixed with her italian creativity makes her well known and appreciated by the most important american designers. She attends the Fashion Institute of Design in L.A., graduating in 1981. In the same year, she estabilishes the first Italian office of design on the west coast: the L.A.D.S. (Los Angeles Design Studio).
Marina co-operates as costume designer for the film "Choose me" by Alan Rudolph, designer for "Strange Kiss" by Matthew Chapmann and her co-operation goes on with the film "To live and die in L.A." by Billy Friedken (director of "French Connection"), with Wilhelm Dafoe, Billy Petersen and many others Hollywood productions.
In 1982 is assistant designer of Nancy Heller, well known american designer.

In 1984, she designes her first autumn\winter "Marina Spadafora" collection produced by Spadafora S.p.A.

After the debut in 1987 with her first show at Contemporary (Milan), in 1990 she shows her pr6t41-porter collection at Milano Collezioni, thus officially entering the Camera Nazionale della Moda.

In 1991, she is special guest of the exhibition "Labito oltre la Moda" held in Venice.

Marina Spadafora in 1990 moves back to Milano where, in Piazza Cavour 7, she opens her own show-room, not just as a work space but a polyhedron open-space, cultural meeting point and creative space.

Sensitive to the New-Age and very interested in Oriental culture an philosophy, Marina Spadafora invites as special guest at her show on October 1993 the Lama Ganchen Rimpoche with his messages of peace and harmony. On december, in the same year, she organizes in her space an exhibition of asiatic art, with a rare collection of objects form Indonesia, India, Central Asia and Tibet.

In September 1996 Marina Spadafora opens her first monogriffe boutique in Via della Spiga (Milan), one of the most famous shopping centre in the world, and in May 1998 Marina launches her new high-technological line of sunglasses during the MIDO.

June 1998 sees Marina's opening of her second monogriffe boutique in Via della Vigna Nuova (Florence), the very heart of the city.

In addition to all this, Marina Spadafora takes part to many different events such as television shows, special catwalks and benefit initiatives in which she is involved as a woman and a fashion designer.

Showroom/PressOffice
Piazza Cavour, 7
Italy - 20121 Milano
tel. 0039 02 6361151
fax 0039 02 6596923