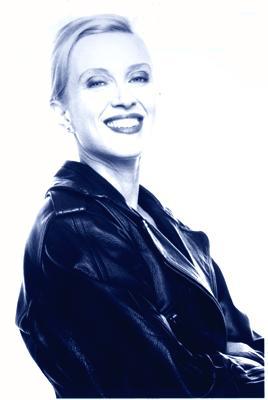 VALERIE STEELE 1998

Valerie Steele (Ph.D., Yale University) is Chief Curator of The Museum at the Fashion Institute of Technology and Editor of the quarterly journal
Fashion Theory: The Journal of Dress, Body & Culture.
Dr. Steele is the author of numerous books, including
Fifty Years of Fashion: New Look to Now (Yale University Press, 1997),
Fetish: Fashion, Sex and Power (New York: Oxford University Press, 1996),
Women of Fashion: 20th-Century Designers (Rizzoli, 1991 ),
Paris Fashion: A Cultural History (OUP, 1988; second edition, Berg, 1999), and
Fashion and Eroticism (OUP, 1985), as well as the forthcoming
Shoes: A Lexicon of Style (Rizzoli, 1999) and
China Chic: East Meets West (Yale University Press, 1999).
She also co-edited
Men and Women: Dressing the Part with Claudia Kidwell (Smithsonian, 1989).
She has contributed essays to many periodicals ranging from Aperture and Artforum to Irisionnaire and hogue, including
Dress, Costume, and The Yale Journal of Criticism.
Since she was appointed Chief Curator of The Museum at the Fashion Institute of Technology in 1997, Dr. Steele has organized several major exhibitions including
Fifty Years of Fashion: New Look to Now,
Isabel and Ruben Toledo: A Marriage of Art and Fashion, and Claire McCardell and The American Look.
Forthcoming in 1999 are exhibitions on China Chic and Shoes.

She has appeared on "Good Morning America," "The Today Show," "Fashion Television," "The Oprah Winfrey Show," and the PBS special, "The Way We Wear," after which The Washington Post described her as one of "fashion's brainiest women." She was prominently featured on the four-part television series, Undressed. The Story of Fashion (produced by England's Channel 4), and she will soon appear in Unmentionables: A Brief History of Underwear (Arts & Entertainment). Frequently quoted in the media, she was herself the subject of a profile in Forbes (8/3/92): "Fashion Professor."

Her books have been reviewed by dozens of periodicals and newspapers as diverse as the Italian fashion magazine Donna ("originale...molto interesanti...brilliante"), The New York Times (both Sunday and daily editions), and the front page of The Los Angeles Times Book Review ("required reading").

Dr. Steele has lectured widely on subjects such as "Youthquake: The Fashions of the 1960s" (Kimbell Art Museum), "Dressing for Work" (Valentine Museum), "Uniforms and Sexual Stereotypes" (American Studies Association), "The Myth of the 16-Inch Waist" (American Historical Association), "The Italian Look" (Fordham University), "Fashion and Fragrance" (Chicago Historical Society), "Erotic Fashion Photography" (Seminar on the History of Psychiatry and Behavioral Sciences, The New York Hospital-Cornell Medical Center), "Fashion, Sex and Power" (Association of Women in Apparel Resources), and "Women in Fashion" (World Congress of Sociology, Madrid).

Writing in Dress (1989), Robert Riley declared that "Anne Hollander, Valerie Steele, and Bill Cunningham are members of a small band of American critics and scholars now writing and talking about fashion with a knowledge of the business, the craft, and the art. They know its history and its meaning...They are bright-eyed independents. Above all they respect their profession and grant it due importance." Valerie Steele has served on the board of directors of the Costume Society of America and the advisory board of the International Costume Association. She is a member of The Fashion Group International.