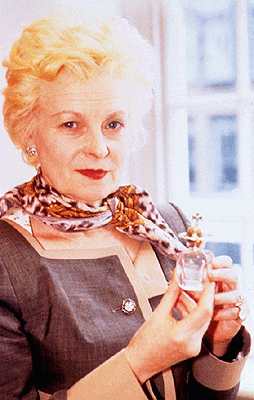 Vivienne Westwood 1999
Vivienne Westwood began designing in 1971 and used her shop at 430 King's Road as a showcase for her ideas, changing the shop name and decor with every collection. The last in the series was "World's End" which remains the name of the store today. In March 1992, she showed for the first time a collection under her own name at Olympia in London. The following year she began to show in Paris.
Vivienne Westwood completed two years as professor of fashion at the Vienna academy of applied arts for the years 1989-91. She also accepted a professorship of fashion at the Hochschule der Kunste in Berlin in 1992, where she continues to teach.
Vivienne Westwood traditionally included menswear within her womenswear collections but in January 1996 she showed her men's label "Man" for the first time as an independent collection in Milan, it is now shown twice a year as part of the menswear shows in Milan. Vivienne Westwood shows twice a year her "Gold Label" Collection in Paris during the Pret-a-porter Fashion weeks and her "Red Label" Collection twice a year in New York and London.
Vivienne Westwood's first Mayfair shop opened in December 1990 to promote her "Gold Label" Collection and to develop the spirit of Haute Couture, offering a special order service. Soon afterward Vivienne Westwood shops were opened in Tokyo and around the UK promoting all her Collections, "Gold and Red Label", "Man", "Anglomania" and the Accessories Collection. In May 1997 Vivienne Westwood opened her head quarters in the heart of Mayfair, which includes the European flagship store and in September 1998 she opened her first flagship store in SoHo New York.
Vivienne Westwood is the only British Designer, who has her own fragrance, Boudoir, which was launched in June 1998.
Vivienne Westwood has twice been awarded the British Designer of the Year award (1990 and 1991), in 1992 was presented with an OBE by Her Majesty the Queen and in 1997 with the Exporter of the Year Awards. In 1998 she was awarded the first ever Moet and Chandon Tribute award at the Victoria &Albert Museum in London and with the Queen's Award For Export Achievement, which she received at Buckingham Palace.

photo: © Jim Marks