11 October 2021

Fashion.at Autumn/Winter style tip under the motto 'Protecting the climate and saving money'
Both, climate protection and money are currently the main themes of Austrian politicians - when they are working on the new budget. Over the weekend the population observed how the state prosecutors' respectively the court's decision to file a lawsuit against the Chancellor and several other persons caused a severe inner political crisis with the result that the Austrians have now a new Chancellor - and the latest topic concerning new taxes for climate sins hasn't been finalized yet; means it's not legally effective. Aim of the new bills is the reduction of co2 pollution. Unfortunately, the government had no better idea than the quasi punishment of drivers of fuel or diesel cars and people who heat with oil or gas. The ones who can afford investments like buying an electric car or have the capital to rebuild their houses' heating systems won't be affected directly by the planned bill; means that in many cases the ones who have a small monthly budget have to calculate once more with less money than before. It seems as if a new dynamic is going to be legalised which can possibly push the spiral of poverty in Austria. Many don't even have the chance to change the heating system as they are not the owners of the house they're living in or can't afford a new electric car or use public transportation services such as the older population or people with handicaps. The strategy might appear negatively orientated against the people and without any concepts how the money from the new taxes will be invested into climate protecting measures such as infrastructure which makes for example climate friendly heating easily possible through affordable refitting measures. It's unrealistic to think that the country's people can change the strategy of the government in the next months. Even the governments of the federal states such as Vienna will probably have to accept the bills. (Tip: For citizens of Vienna, tips and tricks are published at the eco counseling website umweltberatung.at about topics like financial support for ecological measures in companies, recipes of the season for environmentally friendly cooking, or 'Climate fit in the Home Office', etc.)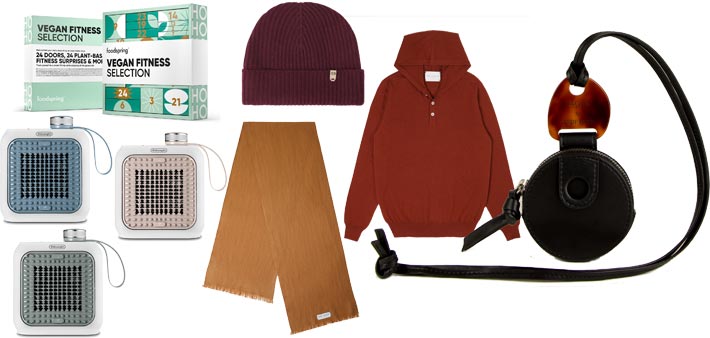 So, let's get through the colder days in good style. Fashion.at collected some pieces for staying warm & healthy and for saving money.

The cashmere hoodie in bronze, scarf in amber and knitted hat in bordeaux by Vienna-based brand Mogli & Martini are produced in cooperation with local family businesses in Nepal. At en.moglimartini.com/pages/unserestory, the founders Andreas De Martini and Gregor W. Köstler provide insights into the history and the mission of the brand which was started in 2017 during a motorcycle tour in the highlands of the Himalayas. Photos: © MOGLI & MARTINI.

The coin bag 'Pinot' by the Viennese bags and small leather goods brand Sagan for eyewear label Andy Wolf, headquartered in Hartberg, Styria is made of sustainable grape leather. Parts of the proceeds of every item sold will be donated to the children's hospice and family harbourage 'Sterntalerhof'. It's announced that the coin bag is available from 7th November at sagan-vienna.com and andy-wolf.com. Photo: © ANDY WOLF Eyewear.

The advent calendar box 'Vegan Fitness Selection' by Foodspring filled with protein snacks and other products for strengthening muscles, for the support of fitness and a healthier lifestyle is already available at foodspring.at. Photo: © foodspring

The hand warming Capsule Desk Fan Heater (HFX10B03) by De'Longhi was designed with home office in mind. The heater with thermostat (up to 28° C) is available in blue, green and rosé.