21 August 2021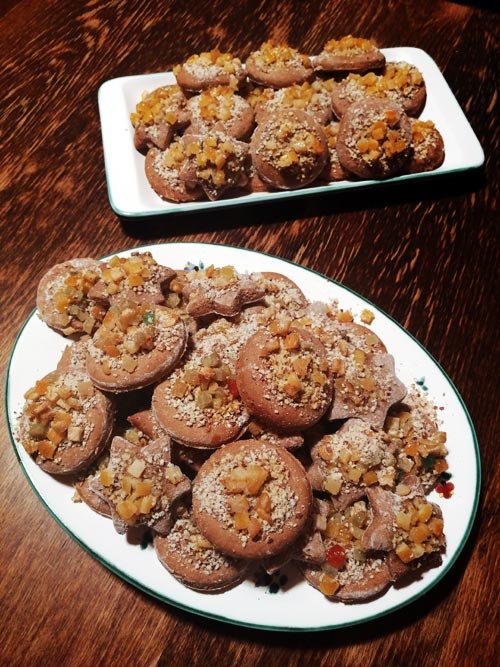 Fashion.at recipe tip for accompanying coffee or tea: Gingerbread, almost sugar-free with almonds, bourbon-vanilla and an extra portion honey
Today and tomorrow are according to current weather forecasts for Austria the last high-summerly warm days before the late summer season begins with comfortable temperatures of around 20° Celsius. Falling temperatures will also change the nutrition; so for example ice cream will be replaced in the next weeks more and more by pastry like cookies. Fashion.at recently visited Mariazell which is Austria's most important pilgrimage destination and famous for various products such as gingerbread. The recipe of the gingerbread Fashion.at tasted there is unfortunately a well secured secret. But the taste of the pastry - which is absolutely out of competition - was so inspiring that Fashion.at started an experiment and developed from various online published basic recipes a new one with the demand to create almost, in comparison to many basic recipes, sugar-free gingerbread-cookies with almonds and arancini.

The basic gingerbread recipes are very similar. At the found sources, the listed ingredients differ mostly in the amount of the essential ingredients rye flour, eggs, gingerbread spice, baking powder, and honey. Relatively constant is the high portion of sugar. Fashion.at replaced the last mentioned by several gram bourbon-vanilla sugar and an extra portion of honey. Additionally, the basic recipe was modified by mixing almonds with the flour.

The recipe with following ingredients delivered fluffy soft gingerbread-cookies perfectly for the coffee or tea in the afternoon.

Ingredients:
500 gr rye flour
1 package (16 gr) baking powder
1 package (24 gr) bourbon-vanilla sugar
1 ½ level tablespoon of gingerbread spice
(DIY recipes for the spice can be found online; Fashion.at used an already prepared honey gingerbread spice blend by Kotanyi: Cinnamon, nutmeg, coriander, ginger, fennel, cloves, allspice, anise, star anise, pepper, cardamom seeds)
½ tablespoon cocoa
1 level tablespoon butter


200 gr ground almonds (100 gr for the topping)
200 gr arancini (for the topping)


3 eggs (1 egg yolk for the glaze)
6 to 7 generously filled tablespoons honey
⅛ liter milk
Preparation:
Bring together the flour, baking powder, bourbon-vanilla, gingerbread spice, cocoa and 100 gr ground almonds; add butter flakes
Use a mixing device for stirring up the eggs (separate one yolk for the glaze) with milk and honey
For the glaze, add the yolk into a glass and stir it with some drops of milk
Knead the liquid egg-honey mixture into the flour, almond,... until it's a dough which can be flattened with a pastry roller in the height of around 1 cm
Use a glass or any cookie cutter for partitioning the dough to handy pieces
Place the cutted dough items on a baking tray covered with baking paper
Add the topping - at first almond, then arancini
Finish the preparation by adding the glaze


Bake it at 180° Celsius with upper and lower heat for around 10 to 12 minutes

Let the biscuits cool down. Ready!

Tip: For storing the cookies, a closed container with the peel of an orange works fine.