22 September 2021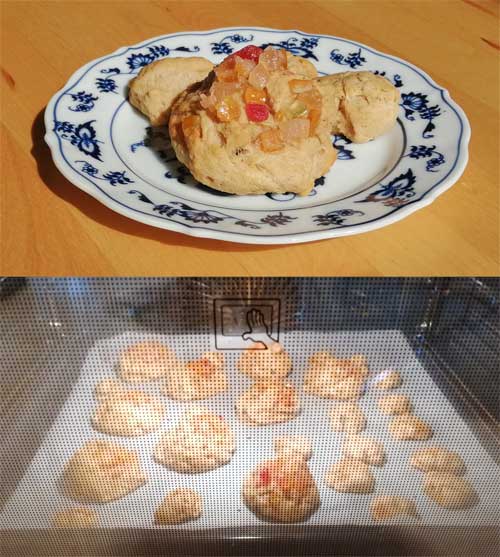 Fashion.at version of Ginger-Cinnamon-Cardamom Cookies with Arancini for the autumn comfort zone at the office or at home
Today is the astronomical start of the autumn Season 2021. In the last weeks with days becoming shorter, Fashion.at has turned its rooms with harmonious interior scents and regional Autumn flower decorations into a fitting comfort zone for the new season. Highlights of the cosy easiness are now afternoon coffees with spicy cookies instead of fresh-fruity summer desserts. One of the latest sweets was self-made by Fashion.at after inspirations from found online published recipes. Experimenting with ingredients is not always a choice as simply not all ingredients are available at the kitchen and the Fashion.at taste (less sugar than normally recommended) requires additional creativity. This happened also during the making of the cookies on view on this page. They taste ginger-spicy and cinnamon-sweet.

While getting inspirations online one of the problems was that the measuring methods of recipes differ from country to country so for example are US cup units not common in Austria. The same with ingredients or the standard for measuring temperatures (Fahrenheit vs Celsius). In general, the flour quality such as plain wheat flour for cookies is often not explicitly mentioned. Cookies can also be made with other flour qualities. Fashion.at used following ingredients which were available at the kitchen such as plain wheat flour type 700 (the type signifies the proportion of vitamins, minerals and dietary fiber; 700 is a middle quality):
Plain wheat flour, 250 gr
Baking powder, 8 gr
Salt, pinch of
Pepper, pinch of
Ginger grounded, 1 ½ teaspoons
Cinnamon grounded, 1 teaspoon
Cardamom grounded, ½ teaspoon
Vanilla sugar, 24 gr
Arancini 100gr

Mix the flour with the spices, etc (from above) and in an extra vessel the eggs, honey… Add the flour mixture to the liquid slowly while continuously stirring.
Eggs, 2
Honey, 1 tablespoon
Vanilla mark
Butter melted, 75 gr
Milk, 1/16
The dough was partitioned into (a little bit too) large and handy one-bite-sized small round forms for testing what is preferred and placed on the tray with baking paper. The raw cookies were slightly pressed flat and the large ones additionally decorated with arancini.

Heat the oven to 180° Celsius, and bake them with top and bottom heat for around 10 to 15 minutes. The smaller ones are earlier ready.

Images: The dough was enough for 9 large and 13 small cookies. The small, handy ones were preferred.