19 June 2019

Los Angeles-based hair stylist Peter Savic about his early years in Vienna and his latest and upcoming art projects
The interview with Peter Savic was held in German in mid-June 2019; translation by Fashion.at.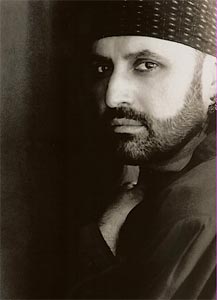 Peter Savic is one of the top hair stylists worldwide. The Instagram @peter.savic gallery of international culture producers wearing hair styles by Peter Savic provides insights into his work of the last decades since he moved 1983 from Vienna to Los Angeles. Icons like Madonna, Diana Ross, Lady Gaga, Christina Aguilera, or Hollywood actresses such as Kim Basinger, Kate Beckinsale, Salma Hayek, European icons of the film business Sophia Loren, Monica Belluci or models like Kendall Jenner, Cindy Crawford, Kate Moss, Naomi Campbell,.. count to the clients of the in Vienna raised and educated hairdresser.
fig.: Portrait Peter Savic. Photo: © Peter Savic.
When asked if any of the prominent models, actors, designers, photographers or media had impact on his work, Peter Savic said in an interview with Fashion.at, "Nobody ever has influenced my work. I come to a shooting with my two suitcases, that's all." Peter Savic has an own archive of hair fashions of various styles and periods. In many cases, the stylist creates the looks together with the photographers.
Fashion.at: "Today you live in Los Angeles; but your career started in Vienna in times already before the internationally acclaimed Austrian fashion designer Helmut Lang made his first runway show in Paris."
Peter Savic: *My career started in the 1970s in Vienna. I made the hair for the first ever fashion show of Helmut Lang. It was held at the restaurant Motto [editor's note: a meeting point of the creative scene in Vienna] already before the label 'Helmut Lang' was founded officially in the 1980s."
Fashion.at: "You were very successful in Vienna, worked with top Austrian photographers like Elfie Semotan and for clients like Palmers - the pinup interpretations provoked public discussions, or Römerquelle [editor's note: the natural mineral water brand belongs today to Coca Cola]. You were the hairdresser of prominent people from the country's art and culture scene like Gundi Dietz, Cora Egg or Kiki Kogelnik. Kiki Kogelnik lived in New York and when back in Austria, she visited friends, family, and you, her favorite hairdresser. Why did you move in 1983 to Los Angeles?
Peter Savic: "I followed the advice of Austrian model Angelika Schubert who lived and worked already in Los Angeles. I was recommended by Angelika Schubert to the hair and makeup agency Cloutier. At around the same time when I came to the United States, Italian makeup artist Francesca Tolot arrived in Los Angeles. We teamed up for many great photo shoots with Francesca's husband photographer Alberto Tolot and models such as the Austrian Martina Krischke."
Fashion.at: "In Vienna, you were known for mentoring upcoming models such as Cordula Reyer who moved like Martina Krischke, Karin Heim or Irene Pfeifer in the 1980s from Austria to the United States. Have you continued your mentoring role in the US?"
Peter Savic: "Yes, I've supported even in Los Angeles the career of many young models such as Cordula Reyer - one of the favorite models of Helmut Lang, or Irene Pfeifer who became in US a top model working for labels like John Galliano."
Fashion.at: "Today your clients can book you via the agency Opus Beauty. At the agency's website, an image of your latest hairstyle for Christina Aguilera is published as well as your biography pointing out that you have strong connections to the film and music business."
Peter Savic: "I'm thankful for working with stars like Madonna, Christina Aguilera, Amy Winehouse, Sophia Loren, Diana Ross or Kim Basinger. That's Los Angeles. Nowhere else exists that glam."
Fashion.at: "Each year you are visiting your mother in Vienna. This year, you combined your stay with an art project at the church Michaelerkirche."
Peter Savic: "Stefan Zeisler, Creative Director of the Kunsthistorisches Museum Vienna, made the contact with Elena Holzhausen, Diocesan Conservator and Art Commissioner of the Archdiocese of Vienna. Elena Holzhausen curated this year's lenten veil at church Michaelerkirche. US artist Connor Tingley and I have created in collaboration a red painting showing a close up of meat, of muscles and fat. The painting was installed as a huge lenten veil inside the church on occasion of the fasting period. The exhibition opened on Ash Wednesday and ran until after Easter."
[Editor's note: Details about 'Sursum Carnesi' by Peter Savic and Connor Tingley can be found at erzdioezese-wien.at.]
Fashion.at: "You have started your next art project just after the lenten veil for Michaelerkirche in Vienna was exhibited. This time you have teamed up with Austrian artist Loys Egg. Do you plan to exhibit the art project in Vienna?"
Peter Savic: "Loys Egg is a good old friend of mine. The collaboration in the field sculpture has just started; let's see."
Fashion.at: "Will you return next spring for a visit to Vienna?"
Peter Savic: "Yes."
Fashion.at: "Can you imagine to live in Vienna again?"
Peter Savic: "Very easy. "