21 November 2019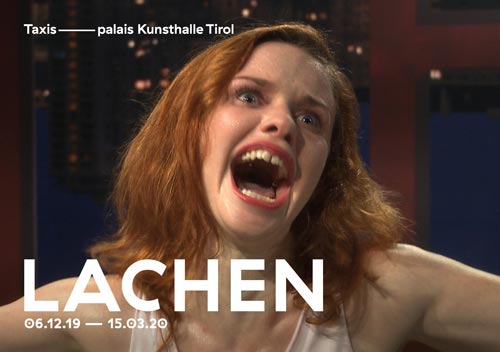 Taxispalais Kunsthalle Tirol explores 'Laughing' in last chapter of its exhibition series about everyday practices

'Laughing' is the title of the third and last chapter of the Taxispalais Kunsthalle Tirol exhibition series concerning everyday practices. The series has started in 2018 with displaying art positions around Love and Sex. Laughing as method for expressing difficult, eventually even hurtful topics is practiced for example in times when politically repressive systems limit the freedom of speech which could also start as simple rules of (misunderstood) politeness.
One of the artists at the Taxispalais exhibition 'Lachen / Laughing' is Israeli filmmaker, writer, artist Roee Rosen. His art video 'Hilarious' (film still on view on this page) from 2010 is a satirical cabaret with a bitter cold undertone which lets the audience sweat; in a scene, the faces are covered with beads of perspiration. Roee Rosen's work will be exhibited together with art (drawing, painting, photography, sculpture,...) by Antonia Baehr, Iman Issa, Stefan Klampfer, and Sophia Mairer from 6 December 2019 until 15 March 2020 at Taxispalais Kunsthalle Tirol in Innsbruck (capital city of the Austrian Federal State Tirol).
fig.: The sujet of the exhibition 'Love / Laughing' (6 December 2019 - 15 March 2020) at Taxispalais Kunsthalle Tirol, Austria, shows a film still from the video 'Hilarious' (2010) by Roee Rosen. Photo: © Roee Rosen.