21 November 2021

Austria Insights: Preview of the concept of the costume designs for Verdi's opera 'Nabucco' at the Oper im Steinbruch in Burgenland (13 July until 14 August 2022)
In the week before the full lockdown is starting on Monday, 22nd November in Austria, the 'Opera in the Quarry' (Oper im Steinbruch) provided insights into the preparations of the creative team for next year's production, the freedom opera 'Nabucco' by Guiseppe Verdi (1842). The opera's famous centerpiece 'Chorus of the Hebrew Slaves' (Spotify) with lyrics praising the beauty of the homeland starting with the words "Va, pensiero, sull'ali dorate" which means translated "Fly, my thoughts, on wings of gold" is one of the most popular opera pieces in music history. The premiere of 'Nabucco' will happen on 13 July 2022.

Daniel Serafin, Artistic Director of the Oper im Steinbruch, cooperates for the realisation of 'Nabucco' with an international team of specialists of opera and arena productions. On the stage will appear singers like Grammy-award winner, baritone Lucas Meachem in the role of Nabucco (Meachem is currently on view on the stage of The Metropolitan Opera in New York as Marcello in La Bohème) or soprano Ewa Plonka as Abigail (Plonka will perform in the role of Lady Macbeth in Verdi's Macbeth on 29 December at the Teatro alla Scala in Milan. More information about the ensemble can be found at operimsteinbruch.at/program/Oper_Nabucco_2022.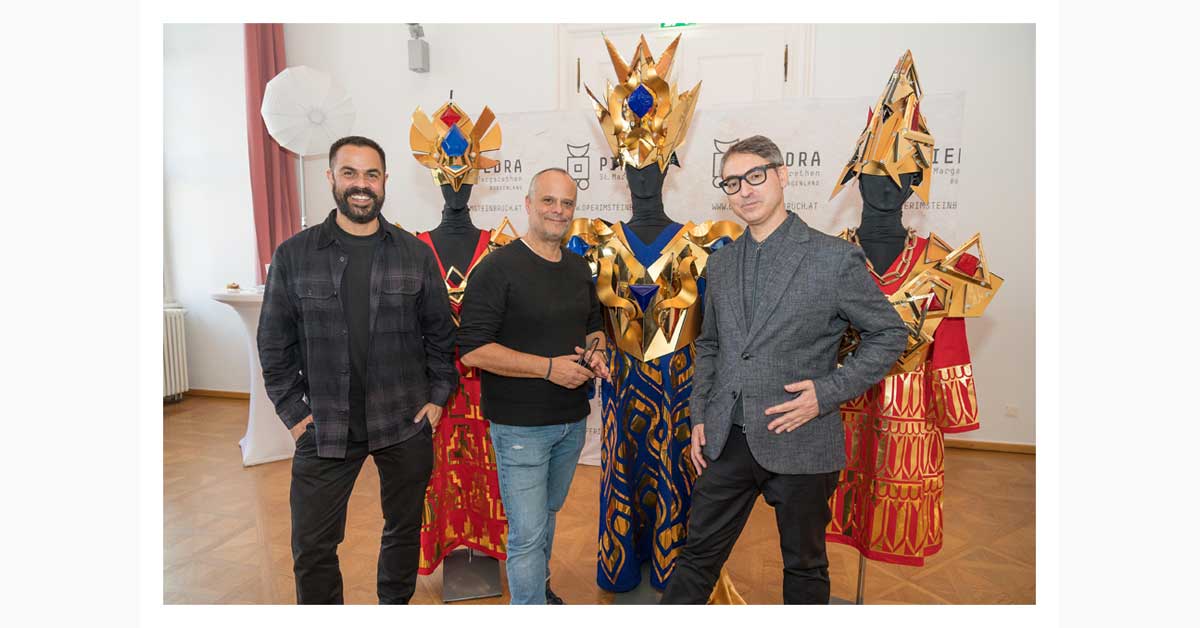 The name of director Francisco Negrin is known from opera, arena, stadium productions - and fashion. In a video by Vogue, Nicolas Ghesquiere speaks about the making of the Louis Vuitton Fall 2020/21 show with scenography by Francsico Negrin to music composed by Woodkid and Bryce Dessner.
Responsible for the costumes is Pepe Corzo who collaborated with Francisco Negrin for the stadium ceremonies of the Pan American and Parapan American Games Lima 2019 where the designer expressed the culture of Peru lively with colorful costumes. For 'Nabucco', Pepe Corzo explored art, architecture and symbolism of Babylonian culture to express the differences between the two worlds of the opera 'Nabucco'. Babylon stands for excess, arrogance, power, megalomania and greed, while the Jewish world represents simplicity, a bond with nature and the environment.

It's announced that the critical view on the anti-nature lifestyle of the society of Babylon will be supported by the stage design by architect Thanassis Demiris who set the focus of the stage concept on the construction site of a monumental Babylonian palace.

Image, from left: Pepe Corzo, Francisco Negrin, Thanassis Demiris at the press conference on 18 November 2021 on occasion of the production of Guiseppe Verdi's 'Nabucco' at the Oper im Steinbruch in St. Margarethen near Eisenstadt, capital city of the Austrian Federal State Burgenland. The opera is on view from 13 July until 14 August 2022. Photo: © Andreas Tischler / Vienna Press.