25 May 2021
Annotation on 5 September 2021: Exhibition prolonged until 10 Ocober 2021.

Designforum Wien exhibits 'Austrian Brand Stories' with behind-the-scenes views and the exploration of the impact on culture such as on the diversity movement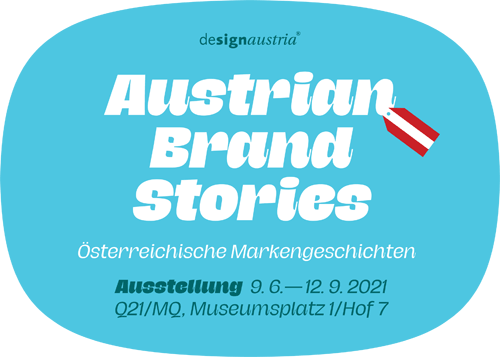 Since 2006, the association for the representation of designers' interests 'designaustria' (the history starts in 1927) supports the awareness for the cultural role of design in everyday life through the networking platform designforum with own exhibition space at MuseumsQuartier in Vienna. One of the latest shows was about natural, local resources and regional craftsmanship presented with lifestyle objects by Slovenian designers under the title 'The Future Of Living' (article).

Today, designforum Wien revealed previews of the next exhibition 'Austrian Brand Stories' scheduled from 9 June until 12 September 10 October 2021. Among the pictures showing examples of products and logos by important brands founded in Austria, the iconic trachten pair ('tracht' means traditional clothing) by beverages brand Almdudler in the original version and in the special edition on occasion of the EuroPride 2019 which happened in Vienna. The company Almdudler and its logo is one of the examples of how culture is lived, reflected and spread by brands in Austria.

Designforum Wien provided already the list of exhibited brands containing names like Atomic, KTM, MAM, Manner, Red Bull, or Silhouette - to name a few. Announced are behind-the-scenes views, historical facts such as that Almdudler was founded 1957 or the brand's support of the charity event Life Ball over several years, as well as the impact of Almdudler on culture such as on the diversity movement.

Image right: Sujet for the exhibition 'Austrian Brand Stories' from 9 June until 12 September 10 October 2021 at designforum, MuseumsQuartier in Vienna.

Images below, from left: Almdudler poster from the 1960ies. Right: Almdudler bottle of the limited 'Pride' edition on occasion of EuroPride 2019 hosted in Vienna. Photos: © Almdudler.