6 October 2021

Preview of the snowsports season in Austria: Kitzsteinhorn in Zell am See-Kaprun invites to the Snow How Days (5 - 7 Nov) with free testing of the latest ski and snowboard models, Freeride Festival film screening, talk with legendary Olympic gold alpine skier Marcel Hirscher,...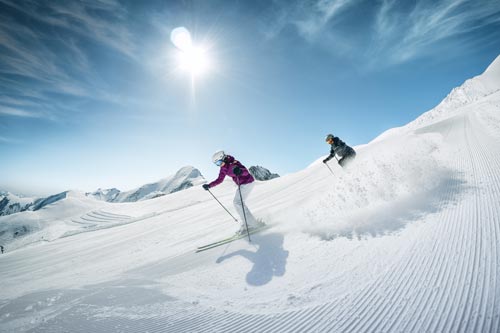 Snowsports season begins in Austria in November, December (opening dates). Though in some regions with glaciers, it's possible to skier earlier such as at Rettenbach Glacier in Sölden where the Alpine Ski Championship Season will be opened with the Audi FIS Ski Weltcup on 23 and 24 October 2021 (calendar of the Austrian Ski Association), or at the glacier region of the Kitzsteinhorn in Zell am See-Kaprun where the ski season starts already next Saturday on the 9th of October.

The Kitzsteinhorn is like Sölden used as a training area by professionals. One of them can be met at the 'Snow How Days' in November 2021. Austrian alpine skier, winner of two Olympic gold medals and several times World Champion Marcel Hirscher will talk about his approach to sports, projects, his visions and motivation on 6 November at the Kaprun Castle. Practical training is offered at snowboard and ski workshops with instructors from the region on 6th and 7th November; on the same days, it's possible to test new ski and snowboard models of the 2022 season.

Photo: © Zell am See-Kaprun Tourismus; photographer Christoph Oberschneider.
Video: On 5th November, the first day of the three-days event series, the Freeride Festival will stop in Zell am See and will screen new productions such as 'Gerwentil' (the old German name for the Karwendel mountains in Tirol) at the Kaprun Castle. The trailer of the film (Tyrolean dialect, English subtitles) shows mystical sceneries in the mountains with three freeriders and an old man who observes the athletes. He appears like a wise shepherd of the mountains' animals and plants, a guardian of the environment. Find details about the film and the intention (building awareness for the protection of nature) at freeride-filmfestival.com/film/gerwentil/.


FFF21 - Gerwentil - Trailer from FREERIDE FILMFESTIVAL on Vimeo.