3 October 2021

The installation 'Search Agent: Desing' by Johanna Pichlbauer for willhaben tells the story about the value of already used objects; it moves from Vienna Design Week 2021 to the headquarters of willhaben
The installation 'Search Agent: Desing' by Vienna-based designer Johanna Pichlbauer for the Austrian online marketplace willhaben, where people can sell and buy goods from shoes, perfumes, clothing to furniture or cars, was presented during Vienna Design Week. The annual festival ends today, but the installation will be relocated to the headquarters of willhaben; and this for good reasons because Pichlbauer's installation is a poetical, almost romantic play with willhaben's technology and objects which carry a special value: the patina of usage and durability.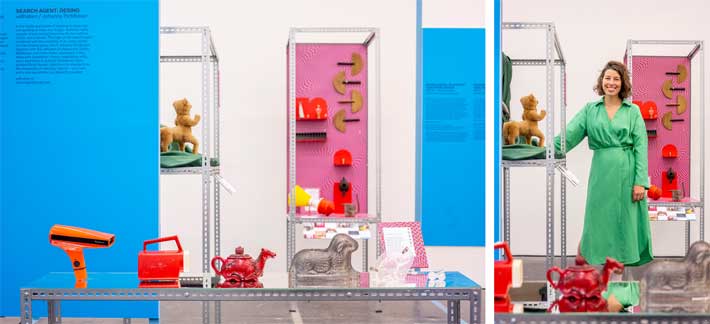 Fashion.at visited Vienna Design Week this week and the installation appeared like a hack or an intervention at the rooms of the festival center where mainly new innovative, partly futuristic products were exhibited such as works of students of the Muthesius University of Fine Arts and Design in Kiel, Germany (Muthesius Kunsthochschule Kiel) under the title 'What's Next?' like bike parts of titan from the 3D printer to water-proof jackets with special concept for fixing for example shredded sleeves. Johanna Pichlbauer's installation for willhaben appeared like a mirror showing the future of products with long-lasting quality. They don't go out of fashion with the wave of trends and the signs of usage prove the objects' durability.

Johanna Pichlbauer dived into the virtual marketplace willhaben and structured the installation after three chapters. The first is the result of the designer's dialogue with the platform's AI used as curatorial assistent for finding objects after the criterium 'visually similar offers' (optisch ähnliche Anzeigen finden), the second chapter shows 'unknown' objects without closer decription what it is, and the third part of the installation exhibits in a glass vitrine objects which were posted with emotional remarks and categorized under 'collection dissolution with a heavy heart'.

Images: The pictures show exhibition views and designer Johanna Pichlbauer standing at her installation 'Search Agent: Desing' for the virtual marketplace willhaben at Vienna Design Week 2021. Photos: © VIENNA DESIGN WEEK/Kollektiv Fischka/Kramar.