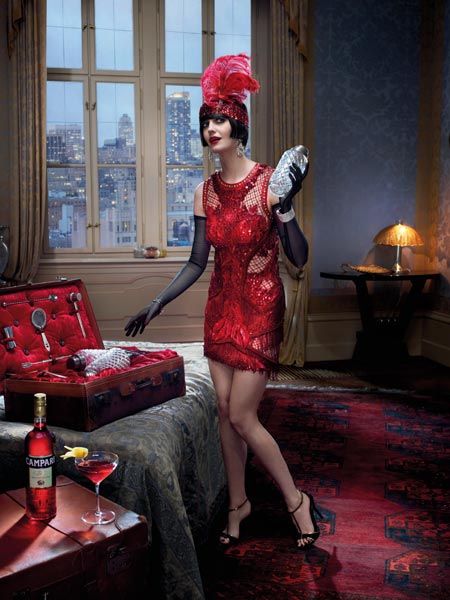 Stories and fashion around cocktails

...such as the one about a magazine as name giver of a recipe. The story is outfitted with fashion by Versace.
In early November 2014, Campari unveiled the new calendar 2015, photographed by artist Julia Fullerton-Batten with Hollywood actress Eva Green in the main role of a series of stories of behind the favorite cocktail recipes such as on view on this page 'The Boulevardier' which is named after a Parisian magazine from the 1920ies.
For the Campari Calendar 2015, Eva Green (currently on view at theatres in the movie 'Sin City: A Dame to Kill For' and the award-winning TV-series 'Penny Dreadful' which is broadcasted over air and on demand via Netflix, Showtime, Sky...) is dressed in couture fashion by such glamorous names like Andrew GN, John Galliano, Vivienne Westwood, Azeddine Alaia, Diane von Furstenberg in combination with shoes by Lanvin or Christian Louboutin and jewellery by Swarovski.
fig.: The Campari Calendar 2015 is entitled 'Mythology Mixology', photographed by Julia Fullerton-Batten, starring Eva Green. On the photo, the actress wears a cocktail dress by Versace with rhinestone and metal fringe embroidery, bracelets by Swarovski and earrings by Helene Zubeldia. The image depicts the calendar's June-story behind 'The Boulevardier' cocktail (a mix of Campari, red vermouth like Cinzano Rosso, and Bourbon Whiskey "served in American style, but with European ingredients"). It's said that it was created by an American Prohibition-refugee bartender in Paris in 1927 and named after one of the cocktail's first fans, an editor who wrote for the magazine 'The Boulevardier'.
Note: The calendar (limited to 9,999 copies) is not for sale; it will be distributed only to friends of Campari around the world.


more cuisine>