Men's fashion blog Dandy Diary's backpack in collaboration with Harris Tweed and Johnnie Walker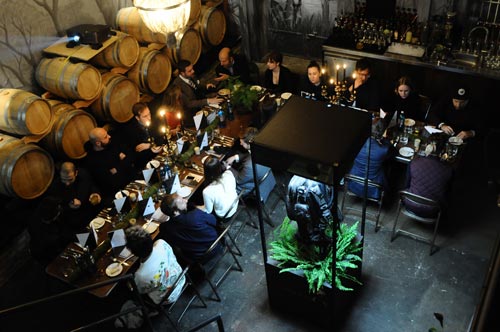 ...was presented recently on 3 December 2014 at the launch event at the bar 'Croco Bleu' in Berlin.
Men's fashion blog 'Dandy Diary' publishers David Kurt Karl Roth (image below, right) and Carl Jakob Haupt are the designers of the rucksack which is covered with pure wool fabric by Harris Tweed. The colors of the woven checked material represent the notes of Johnnie Walker's whiskey: the basic tones malt, gold for vanilla, red for fruits and brown for dark chocolate; green references the landscape of Scotland. The fabric is also scented with the notes of whiskey - quasi a perfumed 'Black Label'-tartan rucksack which could carry the motto 'Fashion for Nature'!
The name of the scent which is composed after the aromas of whiskey and the Scottish landscape is Aqua Alba. The 'Dandy Diary X Harris Tweed X Johnnie Walker Black Label' backpack is a functional travel luggage with integrated neck pillow and blanket - last mentioned can be worn as poncho too. It's announced that it will be produced (by hand in Berlin) in a limited edition of 50 pieces and comes into selected stores at the beginning of next year.