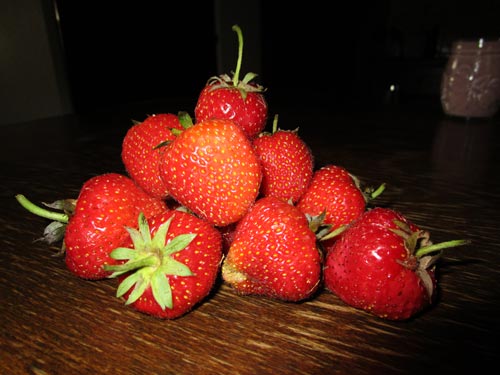 Eat Red, Drink Red for Aids medicine and awareness
Recently, the Eat Red, Drink Red campaign for the support of Aids prevention and HIV care started online parallel to the activities in restaurants from 1 to 10 June 2014. The participating restaurants offer red menu items (from dishes to cocktails) and donate money for medicine which can prevent that HIV of pregnant mothers pass to their babies; watch Connie's story (video).
On the website Red.org, the list of participating restaurants can be found, a subscription form for new restaurants, selected recipes, a sweepstake (after the donation of 10.- Dollars) for a flight to a cooking class in New York, and the gallery of food selfies posted by users under the hashtag #NOMsie for spreading the word about the initiative's fight against Aids.
fig.: Fashionoffice posted a strawberry selfie for the Aids campaign 'Eat (Red), Drink (Red), Save Lives' via Twitter today on 3 June 2014.
And not to forget the initiative's short video, which shows very simple how less 40 cents are (calculated with the costs for food in the Western world) and how much 40 cents can help one person with HIV: the medicine for one person with HIV per day costs 40 cents.