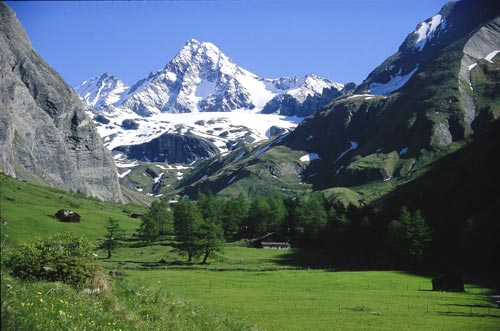 fig.: The picture shows the Grossglockner, the highest mountain of Austria (3,798 metres). Photo: (C) Nationalpark Hohe Tauern Tirol; provided by Mondelez Austria on occasion of the Milka biodiversity project 'Lila liebt Grün' on 22 May 2014.
Chocolate label Milka's charity quiz for biodiversity projects
Today on 22 May 2014, chocolate label Milka presented on occasion of the International Day for Biological Diversity together with National Park Hohe Tauern (in Austria in Salzburg, Tyrol, Carinthia) the awareness program 'Lila liebt Grün' which means translated 'Lilac loves Green' and references the signature brand color of Milka which advertises with a lilac cow; green stands for nature. The region Hohe Tauern is an eldorado for a variety of species; around 10.700 animal (among them 1.300 butterfly species!) and plant species can be found on 1.856 km². Since 2007, Milka cooperates with National Park Hohe Tauern.
At the 'Lila liebt Grün'-initiative, users can collect money by playing the 'Memory Quiz'; the game starts with cards which can be turned by clicking; only a short tip without unveiling too much - it's a memory quiz and don't try to re-arrange the cards - the clock is running! Each point counts as Milka announced that they will change the collected points into money and donate it for biodiversity projects. The quiz continues with some questions which can be solved better if you navigate before through the website lilaliebtgruen.at.


more cuisine>