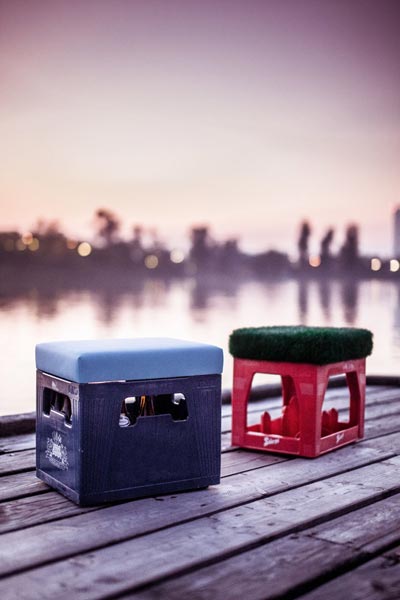 Sayings, beverages and football
In early April 2014, the young upholstering/design label Prostpolsterei sent the information about the seats for beverages boxes. The media release contained sayings which can't be translated from German to English without loosing the word-wit such as "Jetzt bekommen Bierkisten eins übergezogen."; means as much as that beer boxes get an upholstering - but this is not the wit. The wit lies in the word 'pull over' which can mean in German a claps over the head too. Well, when guests at a football-beer garden party are in the last mentioned mood, it's the right time to serve anti-alcoholic beverages for the rest of the evening. For the upcoming football World Cup Brazil parties in front of TV-screens, Prostpolsterei's tip is to use flag seats. The seats can be designed via configurator online even with other colors, symbols and writings; Fashionoffice tested the configurator on prostpolsterei.at and selected a silver seat with green laurel wreath; true to the motto 'to rest on one's laurels'.

Photo right: (C) Jolly Schwarz - facebook.com/JollySchwarzPhotography / Prostpolsterei. Photo below: (C) Prostpolsterei.