Top articles about cuisine and beverages in 2014
Cuisine, culinary, the sensuality of eating and drinking as well as the health aspects count on Fashionoffice to lifestyle. In the category 'cuisine', articles about recipes, activities of cooking tool companies, food producers, and collaborations between beverages labels and football players, actors, artists and fashion designers were published this year.
(Other performance reviews: fragrances, museum exhibitions, collections, SS2015 catwalk shows)
Top articles about cuisine and beverages in 2014:
(Articles written in 2014, published on Fashionoffice, category fashion.at/cuisine, data source of the pageview ranking: Google Analytics 1 January - 11 December 2014, Fashionoffice geography on view on Quantcast; latest data: month November 40% US, 8% UK, 7% BE...).

Fashion that re-interprets iconic artists
...presented by the British pop art fashion, music label The Rodnik Band on invitation of Absolut Vodka at 'Sneak In' in Vienna...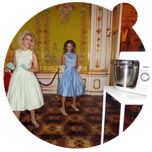 Vienna Cuisine Insight
"Three labels - Braun, Kenwood, De'Longhi, presented their new products with an almost theatrical staging at a palace in the city's center..."

Stories and fashion around cocktails
...such as about a magazine as name giver of a recipe. Campari Calendar 2015 with actress Eva Green, photos by Julia Fullerton-Batten...