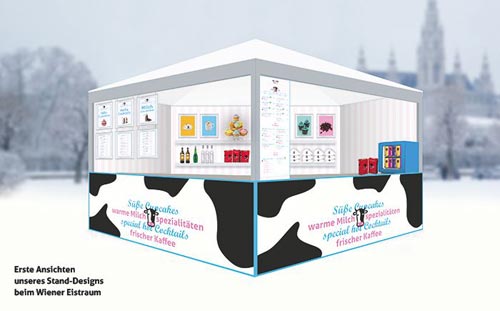 Cupcakes, hot milk, coffee and cocktails for the skaters at Vienna Ice Dream
Tomorrow on 23 January 2013, the 19th annual 'Wiener Eistraum' (Vienna Ice Dream) - a 7,000 square metres ice skating area in front of the city hall, will open. The caterers Event&Rent sent the first impressions of their 'Cupcake & Hot Milk' booth which premieres this year. The gastronomy team developed a special children and youth friendly culinary concept which centers around cupcakes that are made of bio-products from the region. The pastry can be designed individually from different types of dough and toppings like chocolate, nuts, fruits. Additionally, the caterers will serve bio-milk, fair-trade coffee, and for adults hot cocktails (with rum, vodka, liqueur). The 'Wiener Eistraum' is open until 9 March 2014.
fig. right, above: Sketch of the 'Cupcakes & Hot Milk' booth at the skating area of the Wiener Eistraum in front of the Vienna City Hall, 23 January - 9 March 2014. Below: Cupcakes by the caterer team of Event&Rent for Vienna Ice Dream 2014. Photos: (C) Event&Rent.





more cuisine>