12 March 2015

Braun's special program for children's cooking activities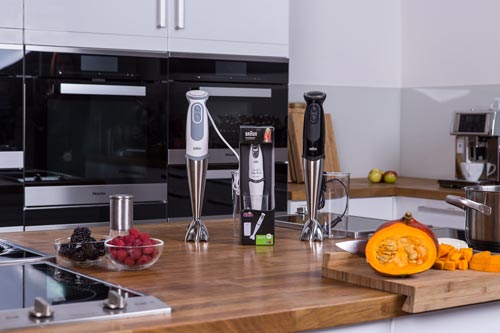 Until 31 March 2015, the Austrian division of Braun offers a special children's hand blender for free. It will be given when one of the Multiquick 5 Hand Blender Vario sets (tools for pasta, soups, puree, sauce, baby nutrition, etc) was bought (the receipt can be sent).
Braun sent the information with various seasonal, regional recipes such as an easy-to-do 'Spring Spread for Easter Brunch' which is made of ingredients like fresh herbs, yoghurt and radishes.
Additionally to the cooking experience in the kitchen, children will have fun while learning about the plants of the region. Walks through nature can be combined with the exploration of the botany and every (better) supermarket is an exhibition area for regional food - well, both without closer information about the cultural history of cooking. Last mentioned can be acquired currently at exhibitions like 'Warzenkraut + Krötenstein' at the country museum of Lower Austria or 'The Kitchen and its Furniture - Design and History' at the Hofmobiliendepot in Vienna.
The recipes website can be found on braunhousehold.com.
Photo provided by Braun: (C) www.ck24.at.


more cuisine>