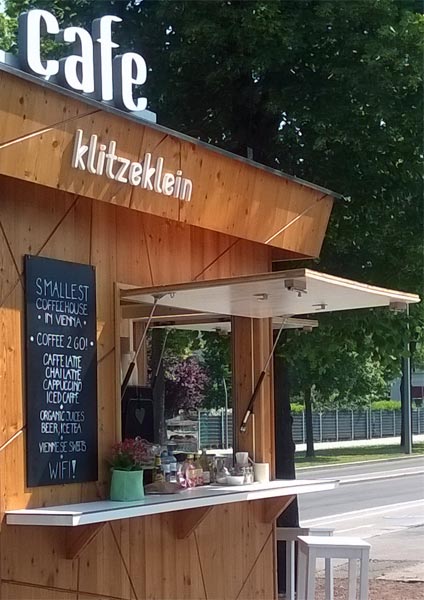 29 May 2015

"Smallest Coffee House In Vienna"
...can be read at the chalkboard of 'Cafe Klitzeklein' which opened earlier this month on 1 May in a wooden hut which stands nearby the Riesenrad at the Ausstellungsstrasse directly at one of the entrances to the entertainment park Wiener Prater. (Klitzeklein means translated into English 'very small', 'tiny'.)
Fashionoffice tasted the small 'Guglhupf' with poppy (image below; the cake is fine - it's not too sweet and has the right amount of poppy). The guglhupf is one of the favorite cakes in Vienna. It's a typical dish for coffee. The small guglhupf looks at the first sight perhaps like a donat but in real size its form remembers more a crown. There can be legends found online which compare the form with the turbans of the Holy Three Kings or tell the story of the etymology of the term 'gugl': 'gugel' is the old German word for 'hood'.
The guglhupfs, the muffins and the brownies are from the own Cafe Klitzeklein bakery. Klitzeklein prepares variations of coffee from cappuccino to chai coffee and serve 'Hasenfit' organic 100% fruit juices by an Upper Austrian family company which focuses on organic farming products.
Cafe Klitzeklein handed out the new flyer with map which shows the directions to the coffee house. Find the flyer on Facebook.