27 December 2015

Champagne tips by Pernod Ricard expert Gert Weihsmann
Gert Weihsmann, Head of Premium Sales of Pernod Ricard Austria, is expert for drinking beverages like champagne with style - this means in moderate way from matching glasses and in combination with tasteful food.
This year, the Viennese fashion scene experienced one of the city's most glamorous parties with Pernod Ricard 'Perrier-Jouët' champagne for the celebration of the 10th anniversary of fashion label Lena Hoschek. (The image right shows the 'Champagne-Espalier' at the entry of the party.) Now, Gert Weihsmann sent tips for New Year's Eve; find some of them summarized here: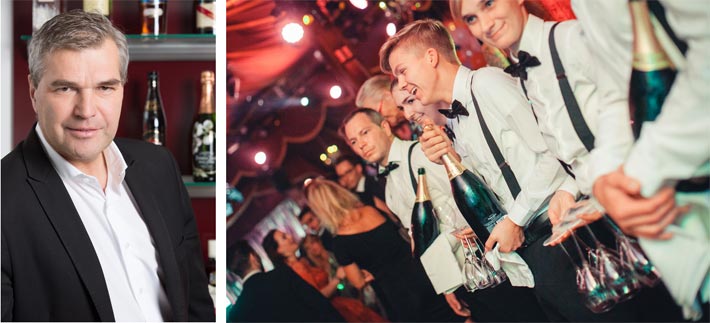 The Glass: In most cases, the white wine glass is the best choice for champagne, especially for 'brut' champagne (95% of champagne wines today).
Temperature: Non-vintage champagne at 9-10° Celsius, vintage champagne (year is indicated on the label, like the 'Perrier-Jouët - Belle Epoque') at 10-12° Celsius.
Food: Champagne accompanies almost every dish. Classics are oysters, carpaccio of raw fish, white meat. Special tip by Gert Weihsmann: Ever tried champagne with cheese like 'Brie de Meaux'?
Situation: Champagne is associated strongly with special moments, situations where life is enjoyed with others. The champagne moments reach from romantic evenings of love couples, over meetings with friends to the celebration of sports triumphs or festive events like New Year's Eve.

fig.: Portrait of Gert Weihsmann, Head of Premium Sales of Pernod Ricard Austria. Photo: (C) Stephan Huger / Pernod Ricard Austria. Image right: Champagne-Espalier. (C) Philipp Lipiarski.


more cuisine>