18 November 2015

Fashionoffice followed the invitation to the official opening of the 'Design mit Wein' pop-up store in Vienna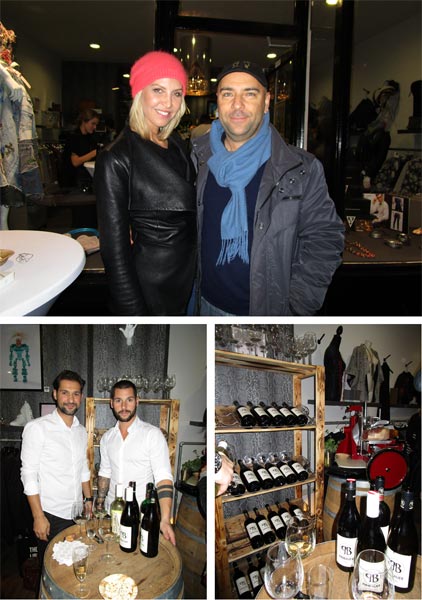 ...and met at the entry in front of the store windows the Austrian TV-personalities Cathy Zimmermann and Reinhard Jesionek. Both are associated strongly with lifestyle in Vienna - such as the new pop-up store spreads Viennese culture well. From handmade lace and (animal free) leather lingerie by Daniela Paradeis to men's jeans by Verdandy (photos below) over jewellery to art, the store offers a range which could be described as 'lustful selection' - even the culinary products at the 'Design mit Wein' (Design with Wine) store follows this strategy with products (wine and small dishes) by winegrower and gastronomy family 'Piribauer' from Burgenland (Austria); definitely, this store can be visited like a wine bar until 22:00 o'clock - with the additional feature that it's embedded into a fashion shop. The 'Design mit Wein' pop-up store at Singerstrasse 27 will be open until the end of December 2015 and invites during that time to events like next Monday the 23rd November to the men's health month Movember portrait (moustache) shooting.

fig. from above: TV-presenters Cathy Zimmermann and Reinhard Jesionek at the official opening of the 'Design mit Wein' pop-up store on 17 November 2015 at Singerstrasse 27 in Vienna. Members of the winery and gastronomy team Piribauer and view at the wine shelf with meat slicing machine. Images below: Handmade lingerie by Daniela Paradeis and a look inside the jeans by Verdandy; the jeans - stretchy like jogging pants - pay tribute to the Nordic god Thor with a story printed inside at the pocket-lining.