25 June 2015

Latest restaurant tip in Vienna: 'Severin' in the pittoresque ambience of an old mill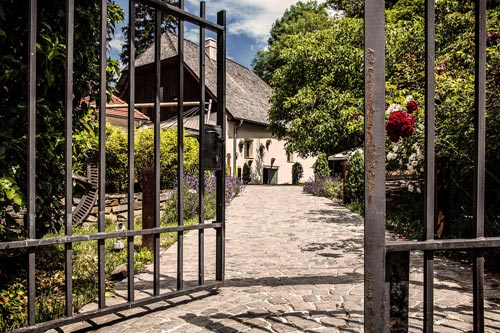 Today, restaurant/bar 'Severin' unveiled details about the cuisine concept together with the first impressions of its just opened location in Vienna's wine region Sievering. 'Severin' is named after the region's saint patron St. Severin. Mario Zadra (image below) was already involved into several prominent Viennese gastronomy and club projects such as Cabaret Fledermaus, Down Kinsky, Tricafe, Hauswirth, The Box, Décor Augarten, Glasweise, Cafe Francais, etc. 'Severin' is his first own restaurant.
The house lies nearby the stream 'Erbsenbach' and combines with its leather and wood interior traditional elements of an old mill with sleek, reduced design (image below). The architecture is spiced with old crafts techniques (mosaic) and art (sculpture): interior, the floor shows mosaic elements which are embed into the tiled ground; outside, the metallic sculpture of a cow brings artistic modernity into the nature of the guest garden with its old trees.
The concept by chef de cuisine Jan Misiaszek foresees alongside to traditional cuisine with dishes like beef tartar, organic beef goulash, calf's liver even vegan recipes. Jan Misiaszek has worked in Vienna for Bar Italia, Glacis Beisl, Motto Catering, Francesco, etc and received already awards such as by Falstaff.
fig.: Open Doors at 'Severin' at Sieveringer Strasse Nr. 164 in Vienna. Images below, from left: CEO Mario Zadra and chef de cuisine Jan Misiaszek. 'Severin' inside and the garden of the restaurant/bar. Photos: (C) Isabella Abel.