15 March 2015

Austrian beer label Stiegl's new fashion collection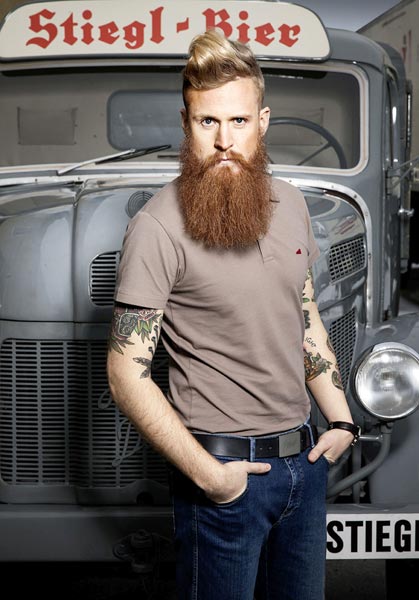 According to Statistik Austria, the country's breweries exported more than import of beer was counted during the last years. The statistics show that the Austrians love their regional beers; the consumption per head/year reaches approx. 106 liters and fortunately in consideration of this number, the sales of alcohol-free beer increased with more than 30%. (Source: Association of Austrian Breweries, Bierserver.at.) Drinking the beer of a certain brand is for many Austrians also an expression of lifestyle.
One of the most popular beer labels is 'Stiegl' by the Salzburg headquartered eponymous brewery; the private owned company was founded in the late 15th century. Stiegl means translated as much as 'little stair'. The little stair is part of the red 'Stiegl' logo, plays in the company's TV ads an important dramaturgical role and is even applied on women's and men's wear such as the polo on the image right. The collection consists of leisure and sports wear from jackets, shirts, blouses over jeans to accessories like belts. The sports wear was developed in collaboration with the Swiss label Odlo, the fashion items with the Italian design brand Praio.
It's announced that the environmental-friendly produced collection 2015 will premiere with a special event program from 20 to 22 March at the Stiegl Braushop in Salzburg and will be available at the brewery's online shop and at partner stores.
On stiegl.at/fashion, an interview with the founder of Praio Riccardo Manente and more Stiegl Fashion images are published.
Photo: (C) ideenwerk.