17 September 2017

Insight into Austrian cuisine recipes: Salzburger Nockerl soufflé resembles the landscape of the city of Salzburg
Austrian cuisine's manifoldness can be explained on the one hand by the diverse national groups of the former Habsburg monarchy; Bohemian cuisine or traditional dishes of Eastern European countries (Hungary, Slovakia, Czech) like the 'Palatschinken' dessert can often be found until nowadays especially in Vienna.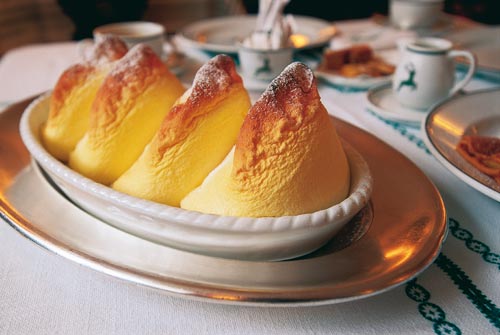 On the other hand, typical Austrian recipes reference regions where they originate from such as the 'Salzburger Nockerl' (image right). The dessert is a very light vanilla composition which melts sweet on the tongue. It's said that the soufflé's mountain-like form represents the city of Salzburg's landscape with it's mountains Mönchsberg, Kapuzinerberg, Nonnberg and Gaisberg. At some texts, it's assumed that Salome Alt (beloved of Prince-Archbishop of Salzburg Wolf Dietrich von Raitenau) invented the fluffy mountain-form soufflé at the turn of the 16/17th century.
Austria.info publishes a collection of recipes inclusively the one of Salzburger Nockerl which are easy to prepare and don't take long to bake; only the pyramid form can become a challenge. Making Palatschinken is simple as well; perhaps even easier as they are designed as flat dessert already.
fig.: Salzburger Nockerl at the hotel 'The Goldener Hirsch' in Salzburg. Photo: (C) Tourismus Salzburg GmbH.


more cuisine>