2 June 2017

Kissa presents cooling summer recipes for drinks, salads, ice cream,... made of Japanese matcha tea
The smoothie on view on this page is one of the latest creations by the Austrian brand Kissa Tea. The green spinach, mango, passion fruit and pink red beet and berries mixtures are filled into a reuseable glass for on the go. The recipe is composed around the taste of matcha tea which has an activating and refreshing effect. The recipe for the Green-Pink Smoothie is easy to make (find it below).
Fashionoffice looked through the Kissa recipe collection inclusively the new cooling summer creations and selected three additional recipes after appeal and interesting ingredients for lunch, afternoon dessert and evening drink:
The avocado, cucumber, radishes, nuts,... 'Matcha Green Goddess Salad' is one of the creations for detoxing at the special 'Detox' recipe category.
The stylish looking cookie-like pink and green 'Matcha Ice Cream Sandwich' gets its colors from strawberries and matcha which are mixed with almonds and vanilla.
The 'Black Tea Sommerspritzer' is made of black tea powder, berry syrup, white wine, sparkling water and basil.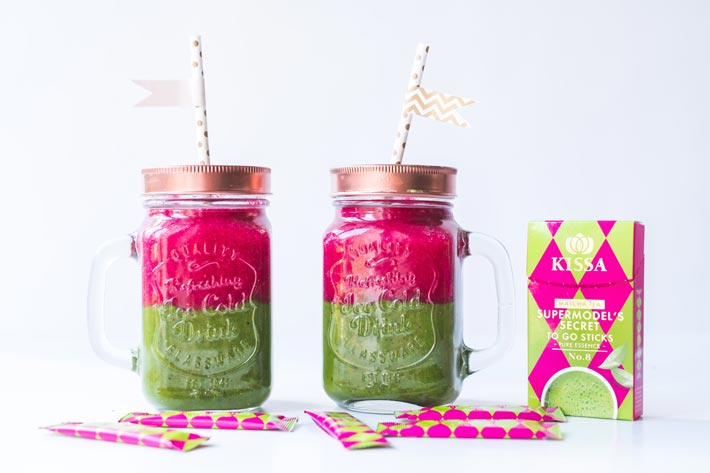 fig.: Green - Pink Smoothie and 'Supermodel's Secret To Go Sticks' by Kissa Tea.
The green smoothie is made of
1 handful baby leaf spinach
fresh basil
1/2 mango
1/2 passion fruit
1 kiwi
200ml coconut water
1 tea spoon matcha
The pink smoothie
2 pre-cooked red beets
10 strawberries
100g raspberries
200ml coconut water
The preparation is shown partly at the video below: put the ingredients of the green smoothie into the blender, purée the fruits and mix it with the liquid and matcha. Then fill the green smoothie into two glasses and freeze them for 10 minutes. Mash up the berries with pre-cooked red beets and coconut water and add the pink smoothie above the green.