5 May 2017

Fashionoffice tip for summer tables: Augarten Porcelain designed by Josef Hoffmann (1929) and Mostlikely (2012)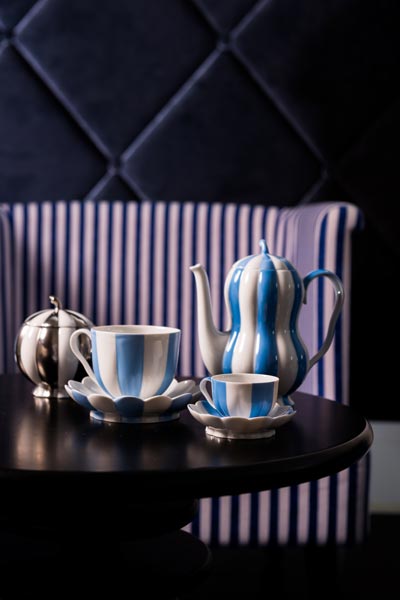 The pieces on this page are from the recently sent list of summer favorites of porcelain by 'Augarten'. Fashionoffice selected two designs (image right and below) which originate from different centuries and survived or will survive fashion thanks to the own signature style applied to functional objects. For connoisseurs it's not difficult to match the esthetics with an art period.
The collection of designs which remind esthetics of interactive stage concepts of contemporary electronic music concerts where visuals run on LED-screens over cubes, or make think of construction plans which are drawn with the computer is created by Vienna-based architecture, sound, design group 'Mostlikely'. The label was mentioned already two times by Fashionoffice (fast checked via the magazine's search) although Mostlikely was founded not long ago in 2012. In 2014, the animal heads (start of the design series in 2012) became popular in Vienna and at many design events, the characteristic creations were on view such as at the pop-up store window of Vienna Fashion Week where Fashionoffice made a photo of a Mostlikely cat lampshade; the cat attracted also Vienna Porcelain Manufactory Augarten where the cat was given in 2015 one more life as porcelain Cat Box which is available with various surface designs such as (at the image below) with floral pattern or with black lines.
The second porcelain collection - a service, which is on view on this page is made by one of the most prominent Austrian designers. He was mentioned already so often by Fashionoffice that regular users know Josef Hoffmann, heard about the influence on his time's esthetics as well as about the importance of his approach for turning functional everyday objects into art works for at home. According to the historical review of the collaboration between Augarten and Josef Hoffmann, the mocca service 'Melon' was designed in 1929. Around 90 years later, Augarten designers added one more item to the Art Déco mocca service: a larger cup which can be used for tea or coffee (on view at the image above left beside the mocca cup).
Photos: Augarten Porzellan/Arnold Pöschl.