18 September 2017

Design duo Lucy D's Augarten X Lobmeyr melange cup with glass pays homage to Viennese coffee house culture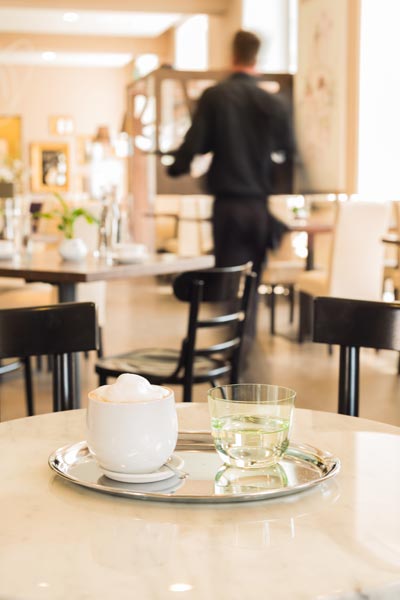 The latest design by the Austrian duo Lucy D for Augarten porcelain manufactory is a porcelain coffee cup with lid which can serve as saucer or side plate as well. The third part is a water glass which fits on the cup; in the closed version (image), it looks like a coffee-to-go solution. The glass is from 'Alpha' series by Austrian glass specialist Lobmeyr and is named 'Alpha-beaker' (available in green, rose, blue). Coffee drinkers know that there are different drinking vessels dedicated to cafe latte (milk cafe), mocca or melange. The 'Augarten X Lobmeyr' cup by Lucy D is designed for one of the favorites in Austrian coffee houses: the Wiener Melange. The melange is a mocca with milk and milk foam on top. The typically Wiener Melange is served - like coffee in general - with water glass.
Augarten's new design collaboration pays homage to Viennese coffee culture which is listed since 2011 at the immaterial cultural heritage UNESCO-collection. The Viennese tradition of drinking coffee in special cafés is strongly connected to creative activities of artists and writers who used the comfortably furnished gastro-locations like extended work & living spaces in public. Coffee houses became very popular in the countries of the Habsburg monarchy during the 19th century. The Lucy D coffee-to-go design fits to the idea to sell the 'Augarten X Lobmeyr Wiener Melange' as souvenir to coffee house lovers. It's announced that it will be available from mid-October at selected destinations.
Photo: © Augarten Porzellan / Arnold Pöschl.


more cuisine>