1 February 2018

Campari presents thrilling story about 'The Legend of Red Hand' with film starring Zoe Saldana, Adriano Giannini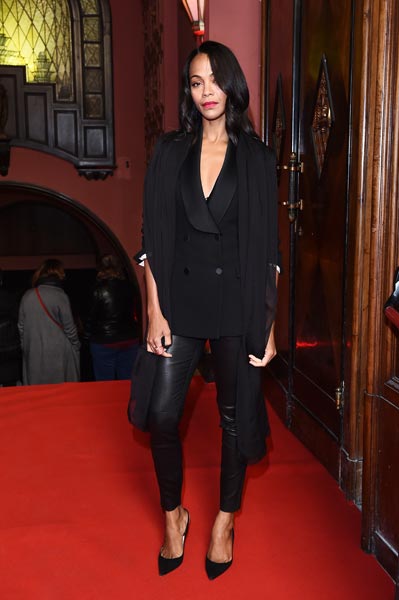 Some scenes of the new Campari short movie 'The Legend of Red Hand' (video below) may remind cineasts of the Michelangelo Antonioni directed 1960s cult mystery-thriller 'Blow-Up' playing in a trendy fashion photographer environment in London. Especially the scenes when famous photographer Mia Parc, played by actress Zoe Saldana (image right; known from 'Avatar', 'Star Trek', 'Guardians of the Galaxy'; her next movie 'Avengers: Infinity War' will be released in April/May this year), sizes up the secretly captured photos for identifying 'Red Hand'. The fashionable Campari Red Diaries movie is outfitted by costume designer Diamante Cavalli who worked with partners like Fendi (Mia Parc's red boots). Actor Adriano Giannini (counts to the representatives of contemporary Italian cinema) appears in the role of Davide in a bar in Milano where the investigative 'The Legend of Red Hand' world tour starts. The role of Davide contains elements of suspense, thrill, and erotic; the tension between crackles in the scene when Davide escapes with Mia from the bar through an undercroft.
The movie, directed by Stefano Sollima, screenplay written by Stefano Bises after the Campari Red Diaries, The Legend of Red Hand concept created by the agency J. Walter Thompson Milano, produced by Think Cattleya, is a visually appealing world tour from Italy to United Kingdom, Brazil, Argentina,... where costume designers on location joined the Campari film team for the outfits of six celebrated bartenders; among them Argentinian bartender Pipi Yalour who is dressed by fashion consultant, singer and actress Paula Kohan into items of her brand Cid Kohan.
fig. Image from the Campari Red Diaries press conference for 'The Legend of Red Hand' short movie, 30 January 2018, Milano, Italy: Zoe Saldana wears jacket by Ermanno Scervino, shoes by Louboutin, and Volta Celeste ring by Vhernier. Photo by Stefania M. D'Alessandro/Getty Images for Campari, (C) 2018 Getty Images.
Credits 'Campari Red Diaries'
Creative Agency: J. Walter Thompson Milan
Production House: Think Cattleya
'The Legend of Red Hand' - short movie
Director: Stefano Sollima
Screenplay: Stefano Bises
Mia Parc: Zoe Saldana
Davide: Adriano Giannini
Actors: Levi Heaton, Marcus Griffiths, Daniele Favilli, Tommaso Basili, Alessandro Mario, Susanna Giaroli
Director of Photography: Dion Beebe
Original Music: Cliff Martinez
Editor: Matthew Newman
Production Designer: Andrea Rosso
Costume Designer: Diamante Cavalli
Celebrity Hair Stylist: Mara Roszak
Celebrity Make-Up Artist: Annamaria Negri