26 February 2018

Fashionoffice recipe SS18: Mixed vegetable salad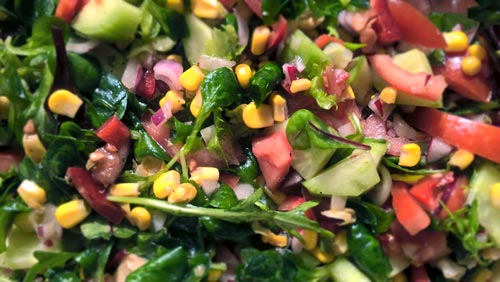 The ingredients for this salad recipe can be found in supermarkets; in many cases they are from regional farmers. The healthy salad can be consumed as main course or as side dish such as to spaghetti with salmon and shrimps in curry-chilli sauce. It's easy to prepare; duration around 30 minutes for 4 portions:
+ Ingredients (partly measured with table spoons; exemplary links to product images)
* Preparation in a salad bowl
The Recipe (4 portions):

+ 3 spoons olive oil
+ 2 spoons rape oil
+ 1 spoon balsamic vinegar
+ 1/4 spoon black pepper (half fine milled; the other half raw milled)
+ 1/5 spoon salt
+ 1/2 spoon capers
+ 1 purple onion
* Cut the capers into small pieces, chop the onion. Stir the oils, vinegar, pepper, salt, capers and onion. The marinade is ready! Leave it in the bowl.
+ 120 gramme corn salad
+ 120 gramme mixed salad (rucola, spinach, mangel,...)
* Wash the salad leaves with warm water in a colander; let the salad drain in the colander while preparing the next ingredients.
+ 1 sweet pepper
+ 4 tomatoes
* Wash pepper and tomatoes with warm water; cut the sweet pepper into cubes and slice the tomatoes.
+ 3 spoons champignons
* Cut half of the champignons into smaller pieces.
+ 1 cucumber
* Skin the cucumber and cut quarter-slices
+ 320 gramme steam-cooked maize kernels
* Stir the salad leaves with the marinade in the bowl. Add the maize, sweet pepper and champignons and mix the ingredients with the salad leaves and marinade. Add the tomatoes, cucumber and stir the salad again.
Ready!


more cuisine>