20 February 2018

Anna's is a seasonal food service which selects fruits, vegetables, meat, fish, bread, milk products from mainly regional Austrian farmers and packs bio-gourmet boxes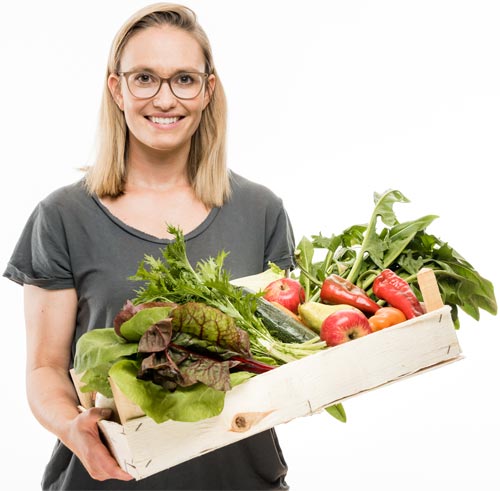 ...for Viennese households. It's a very personal relation between the providers of food - mainly farmers in regions around Vienna, the costumers - the gourmet boxes filled with raw material are delivered to addresses in Vienna, and the founder of the service, Anna Abermann whose website annas.co.at publishes general information about the pillars of 'Anna's' - the 'Bio-Kistl' (translated bio-box) and 'Catering' (for up to 200 persons), and email address or phone number for getting in contact to start an order proceeding or to subscribe to the newsletter. The latest newsletter contains even a collection of recipes as inspiration for meals prepared from ingredients of the bio-gourmet box.
fig. above: The picture shows Anna Abermann holding an 'Anna's'-box filled with vegetables and fruits. Anna Abermann co-founded Austria's first sparkling juice beverage label 'Pona' in the same year as 'Anna's' in 2013. Currently, the bio-gourmet boxes can be ordered in three different sizes packed for single to family households. Photo: © Klaus Ranger.
Anna's sent a list of partners who produce the vegetables (farmer Tristan Toe from the Waldviertel), fish (such as bio Arctic char from Daniel Braunsteiner's fish farm Die Fischbauern), or milk products from the mountain farm Am Froihof. A short review of the partner websites and products mediate the impression of a new generation of farmers who put on the natural power of earth for non-industrial high-quality food production.
fig. below, from right: The image shows Anna Abermann visiting Am Froihof mountain farm owner Walter Sommersguter. Left: Milk products (bio raw milk butter) by Am Froihof. Photos: © Momentosphere by Tobias de St.Julien.