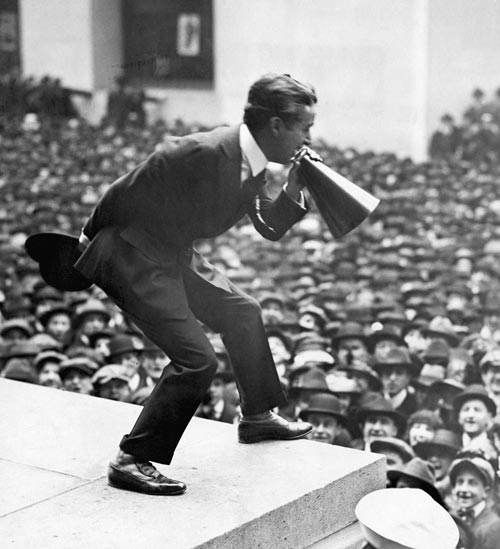 fig.: Unsigniert, 'Charlie Chaplin auf einer Kriegskundgebung in New York', 1918. Fotografie. Otto Bettmann Archive/FPF, Pennsylvania. Photo provided by MKG Hamburg on occasion of the exhibition 'War and Propaganda 14/18' from 20 June until 2 November 2014.
The dynamics of mass media and propaganda
From 20 June until 2 November 2014, MKG Hamburg will question at the exhibition 'War and Propaganda 14/18' on occasion of the 100-years memorial of the beginning of World War I (1914 - 18) propaganda strategies which were employed to motivate people for war. It was not only the first international war; countries fought for the first time with the weapons (opinion making) of mass media.
At the end of May, Fashionoffice looked through MKG Hamburg's preview images of selected items of the around 400 artifacts which reach from music, posters over photographs, daily newspapers to movies and children's toys. 'War and Propaganda' provides with historical material information about the mechanism of unifying people for war by promoting patriotism and defining enemies. And this began already in children's rooms such as with a skills game named 'The Evil 7' or the publication of posed documentary-like photos such as one of an improvised military band. Even pictures of war propaganda in the United States (entered 1917 the war) will be on view such as the one of Charlie Chaplin who spoke at an event of the Committee for Public Information which promoted the participation in WWI.
The dynamics during the years of war were so intense and met a public which was absolutely not prepared to withstand the strategies of professional opinion makers. There are many exhibitions during this year concerning WWI; but 'War and Propaganda' at MKG Hamburg is the one which will open the eyes for mass media, the production of fact-fiction and how public opinion is made up. Very probable that after the visit of the exhibition, people will read the daily news or watch TV news with one question in mind: What's the intention behind the information? And perhaps it's not simple to find an answer immediately in the maze of political and economical interests - nevertheless, a critical position against mass movements is one of the best war preventions.

Related articles:
How photography makes opinion on the example of costume images from the Habsburg monarchy
Cartoon artists' views on peace
100 years human dignity - and the loss of it