Style, originally created by Karl Abarth and Alfieri Maserati
...seen at the sporty designed Abarth 695 Maserati Edition. The car premiered at the elegant and famous road race Mille Miglia (16 - 20 May 2012, from North to Middle Italy - Brescia to Rome and back) at the Piazza della Loggia in Brescia.
The legendary car constructors Karl Abarth and Alfieri Maserati's passion for mechanics and engines was incorporated into the Abarth Maserati Edition (limited to 499 vehicles). Details on abarthspecialties.com.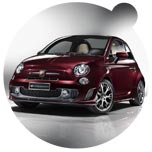 fig. original: The Abarth special edition shows Maserati's 'Neptune'-design on the wheels and appears in Maserati 'Pontevecchio Bordeaux' - a three-layer paintwork which reflects light and accentuates the shine of the colour. The same paintwork can be found on the door mirrors. The electrically controlled soft top of the Abarth 695 Maserati Edition is made of grey fabric (image).
Source: Original article with images on http://www.fashionoffice.org/motor/2012/abarthmaserati5-2012.htm.

more fashion.at/mobile>

News from
April 2012
March 2012
February 2012
January 2012
December 2011
November 2011

subscribe
terms
imprint
(C) Sawetz, since 1996