An illustrator's ocean view for body spray packaging
In November 2012, the Biotherm Eaux line was presented with new packaging illustration by Swedish graphic artist Ingela P. Arrhenius for the limited Holiday edition of four different body sprays from Eau Vitaminée to Eau Océane. Last mentioned body fragrance (described as 'uplifting' scent composition) is the charity version for the marine project 'Mission Blue', founded by Sylvia Earle who is also known as 'Her Deepness'. The submarine on the Eau Océane bottle references the scientific (underwater) efforts of Dr. Earle.

Biotherm announces to invest at least 250.000 Euros from the sale proceeds of the limited Holiday edition into the protection of the Ross Sea via the organization 'Mission Blue'. Additionally, Biotherm will found the platform 'Water Lovers' for the protection of water sources worldwide.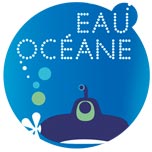 fig. original: Charity bottle for the body spray Eau Océane by Biotherm with illustration by Sweden, nearby Stockholm-based Ingela P. Arrhenius; limited Holiday edition 2012. The illustrator is known for her 50/60s style which appears in children's books, on kitchen towels, plates, fabrics, etc.
Video: Ingela P. Arrhenius speaks about the collaboration with Biotherm.
Source: Original article with image and video on http://www.beautyme.com/skin/2012/biotherm11-2012.htm.

more fashion.at/mobile>

News from
November 2012
October 2012
September 2012
August 2012
July 2012
June 2012
May 2012
April 2012
March 2012
February 2012
January 2012

subscribe
terms
imprint
(C) Sawetz, since 1996