Elegant style for sportive city activities
...seen at the Bogner Woman collection 'Florence, Toscana' Spring/Summer 2012.
The worldwide active, in Munich (Germany) headquartered fashion label Bogner is known for fusioning sport and elegant style.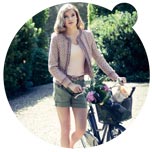 fig. original: The classical jacket in crème/lilac with 3-dimensional lilac yarn-bordure has a functional zip as closure. Bogner combines for the city-biker style short trousers in Safari/adventure green to the elegant jacket. The pieces are from the 'Florence, Toscana' collection SS2012 by Bogner Woman.
The jacket remembers this year's outfit of the German Olympic women's team, which is dressed by the label. The athletes' (men and women) clothes are designed by Bogner for official events at the Olympic Summer Games London 2012. (Parts of the Olympia collection are on view on 'Outfit of the German Olympic team'.)
Since 1936, Bogner provides clothes for Olympia. In 2012, the company produces for the first time tailor-made outfits; this means that Bogner had to measure each of the athletes, trainers and team-members.
"It was a real challenge to combine the guidelines from the German Olympic Sport Association, the requirements of the International Olympic Committee and Bogner's creative ideas. ... We cannot give away here how the team around head designer Gotthardin Thylmann solved the puzzle!" bogner.com
Video: Collection 'Florence, Toscana' SS2012 by Bogner Woman.
Source: Original article with image and video on http://www.fashionoffice.org/collections/2012/bogner5-2012.htm.

more fashion.at/mobile>

News from
April 2012
March 2012
February 2012
January 2012
December 2011
November 2011

subscribe
terms
imprint
(C) Sawetz, since 1996