Butterfly alike folded textile screens for flexible spaces
...seen at the 'Clouds' by the French experimental interior designers Ronan and Erwan Bouroullec.
From 20 October 2012 until 20 January 2013, Ronan and Erwan Bouroullec's design work of the last 15 years created for office and home usage will be presented at the MCA (Museum of Contemporary Art) Chicago.
The exhibition title 'Ronan and Erwan Bouroullec: Bivouac' refers the center theme of the brothers' design which is developed from experiments with 'flexible spaces' for storage systems and space defining furnitures such as the 'Clouds' room-dividers made from textiles that look like origami folded screens and remember music speakers or satellite receivers.
Ronan and Erwan Bouroullec are textile addicts: already in 2000, Issey Miyake became aware of their approach to interior design and asked them to design a space for his new collection of A-Poc clothes in Paris.
"In line with their focus on flexibility, as well as their desire to defy conventional architectural logic, the Bouroullecs encourage users to organize their space however they like." mcachicago.org
The Bouroullec brothers began to work together in 1999. The source of their creativity is the research on new experiences of space with interior objects. The products of their research are not only objects (furnitures) for home and office. The 'Textile Field' for example was created for the Victoria & Albert Museum's Raphael Gallery and enabled visitors to experience the art space from a lounge-meditation-perspective by using the Bouroullec textile furniture installation. (Video from the exhibition at the Victoria and Albert Museum during the London Design Festival, 15 - 25 September 2011.)

fig. original: 'Clouds' by Ronan and Erwan Bouroullec, 2008. Produced by Kvadrat, courtesy of Kvadrat. Photo (C) Paul Tahon and R & E Bouroullec.
The textile wall systems 'Clouds' are created in close collaboration with the Danish textile company Kvadrat which has set up an own website for the folding-screens on kvadratclouds.com. Ronan and Erwan Bouroullec count the Clouds to their 'microarchitecture' objects which are defined as "larger than furniture but smaller than architecture".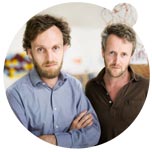 fig. original: The award-winning (Designers of the Year at the 2002 Paris Furniture Show and the 2011 Maison & Objet show, etc) French designers Ronan Bouroullec (born 1971, graduate of the École Nationale Supérieure des Arts Décoratifs in Paris) and Erwan Bouroullec (born 1976, graduate of the École Nationale Supérieure d'Arts in Cergy-Pontoise). Photo (C) Ola Rindal.
The Bouroullecs are working with labels like Vitra, Ligne Roset or Kvadrat, with the Galerie Kreo and on architectural projects such as the stores of shoe label Camper in Paris.
Through October, November 2012, the MCA Chicago invites to the conversation series 'Fundamentals of Interior Product Design' such as on 3 November about 'Colors, Textures, and Materials' used for interior spaces.
Source: Original article with images on http://www.fashionoffice.org/interior/2012/bouroullec8-2012.htm.

more fashion.at/mobile>

News from
July 2012
June 2012
May 2012
April 2012
March 2012
February 2012
January 2012

subscribe
terms
imprint
(C) Sawetz, since 1996