8 August 2012 - Short Message
#Music 'Let's Buy Happiness' by Boys Noize (EU/US live-tour starts in October)
On 6 October 2012, Boys Noize (electronic music project by Berlin-based producer, DJ, and label owner Alex Ridha) will start his EU/US live-tour (first ever live-tour in US) with his third album 'Out Of The Black' which will be released on 2 October on Boysnoize Records. Recently, the track 'What You Want' from the new album premiered on Rolling Stone where it is described as a composition of hip hop beats and German group Kraftwerk's robot style.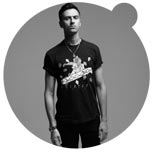 fig. original: Alex Ridha aka Boys Noize. Photo: (C) Bjorn Jonas Photography.
Boys Noize belongs to the most recognized electronic musicians worldwide. In 2010, he received the Independent Music Award and was 3 consecutive times Best Electronic Artist on Beatport. Currently, Beck's sells beer bottles with visual art work by Boys Noize; read more about the project together with the musicians M.I.A., Seeed, Bloc Party, and photographer Anton Corbijn on 'Art on beer bottles'.
Boys Noize starts his tour on 6 October in Berlin, followed by Dublin, London, Vienna, Paris, to name a few. On 23 November the US tour begins in Fort Lauderdale in Florida, followed by Washington, New York, Boston, Los Angeles... Find details on boysnoize.com/dates.

Music: 'Let's Buy Happiness' from Boys Noize's first album 'OiOiOi', released 13 July 2007.
News from
July 2012
June 2012
May 2012
April 2012
March 2012
February 2012
January 2012

subscribe
terms
imprint
(C) Sawetz, since 1996