26 April 2012 - Short Message
360° #cinematic wall for digital content, #music performance, DJ set at the new #fashion store designed by Burberry's Christopher Bailey
Today (26 April), Burberry opens the new flagship store in Taipei (Taiwan) with live performance by British musician/pianist Tom Odell, followed by live DJ set by Tom Price. Burberry's Chief Creative Officer Christopher Bailey has designed a cylindrical space with 360° cinematic projection walls for digital content.
"This is our largest store in the Asia Pacific region, a multi-functional and modern space that perfectly reflects the brand and everything it stands for today." says Christopher Bailey. It is announced that Burberry will publish soon more from the event in Taipei on burberry.com and social media. (Burberry's social media activities in Asia: in February 2011, Burberry launched on 4 local Chinese platforms (Kaixin001 - 126, 908 fans, Douban - 26,881 fans, Youku - 7,298,791 views and Sina Weibo - 333, 566 followers. In March 2011, Burberry launched a local Twitter account in Taiwan in addition to its global Twitter account and accounts in France, Italy, Japan, Korea, Japan, Brazil, Mexico, Turkey, Russia, Australia with local relevance, all featuring brand news and Music Monday music videos selected by Christopher Bailey.)
Inside the 14,800 square foot flagship store, Christopher Bailey presents British heritage through materials and on external 9x5 LED screen walls showcasing digital content, produced and streamed directly from Burberry's global headquarters in London.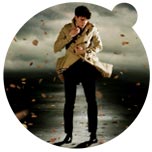 fig. original: Burberry World Live – Taipei 26 April 2012
Video: Teaser for Burberry's flagship store opening on 26 April 2012 in Taipei (Taiwan); located at the Taipei 101 shopping centre. Burberry has currently 21 stores in Taiwan. The new flagship store is the brand's largest store in the Asia Pacific region.
News from
April 2012
March 2012
February 2012
January 2012
December 2011
November 2011
October 2011
September 2011
August 2011

subscribe
terms
imprint
(C) Sawetz, since 1996