1 October 2012 - Short Message
#Music 'Flatlands' by Chelsea Wolfe from the album 'Unknown Rooms: A Collection of Acoustic Songs' (16 Oct, Sargent House)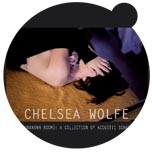 fig.: Detail of the cover for the album 'Unknown Rooms: A Collection of Acoustic Songs' by Chelsea Wolfe; it will be released on 16 October 2012 via Sargent House. On Pitchfork, Chelsea Wolfe speaks about her new album and answers questions such as about the cover art which shows her with one hand over her face, photographed by Kristin Cofer, or about wearing a veil during former live performances.
Track listing:
1. Flatlands
2. The Way We Used To
3. Spinning Centers
4. Appalachia
5. I Died With You
6. Boyfriend
7. Our Work Was Good
8. Hyper Oz
9. Sunstorm
In October and November, Chelsea Wolfe tours in California, Japan, Australia, and Mexico. Details on chelseawolfe.net/shows.


News from
September 2012
August 2012
July 2012
June 2012
May 2012
April 2012
March 2012
February 2012
January 2012

subscribe
terms
imprint
(C) Sawetz, since 1996