Fashionoffice cuisine tip: Cherry Yoghurt
In mid-July 2012 in Middle Europe, the cherry harvest is in full swing (user video from Germany with views on farmer vehicles) and the sweet fruits in their dark red ripeness are available in shops now. It's the best time to use cherries in cakes, cookies or in natural yoghurt as the fruits are delivered from the region (which reduces your CO2-footprint) and the prices are moderate (if you have luck).

fig. original How to: Remove the stones from the cherries (only use full ripened fruits), squeeze them with your bare hands and mix the cherries and their juice with the natural 1% fat yoghurt.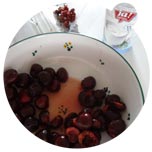 Source: Original article with images on http://www.fashionoffice.org/cuisine/2012/cherryyoghurt7-2012.htm.

more fashion.at/mobile>

News from
July 2012
June 2012
May 2012
April 2012
March 2012
February 2012
January 2012

subscribe
terms
imprint
(C) Sawetz, since 1996